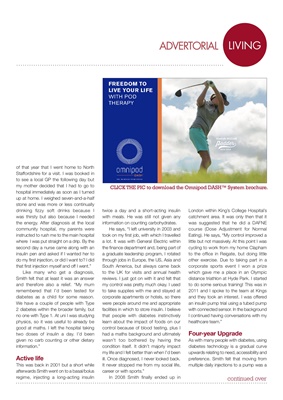 KITLIVING
continued over
of that year that I went home to North
Staffordshire for a visit. I was booked in
to see a local GP the following day but
my mother decided that I had to go to
hospital immediately as soon as I turned
up at home. I weighed seven-and-a-half
stone and was more or less continually
drinking fizzy soft drinks because I
was thirsty but also because I needed
the energy. After diagnosis at the local
community hospital, my parents were
instructed to rush me to the main hospital
where I was put straight on a drip. By the
second day a nurse came along with an
insulin pen and asked if I wanted her to
do my first injection, or did I want to? I did
that first injection myself and off I went."
Like many who get a diagnosis,
Smith felt that at least it was an answer
and therefore also a relief. "My mum
remembered that I'd been tested for
diabetes as a child for some reason.
We have a couple of people with Type
2 diabetes within the broader family, but
no one with Type 1. At uni I was studying
physics, so it was useful to already be
good at maths. I left the hospital taking
two doses of insulin a day. I'd been
given no carb counting or other dietary
information."
Active life
This was back in 2001 but a short while
afterwards Smith went on to a basal/bolus
regime, injecting a long-acting insulin
twice a day and a short-acting insulin
with meals. He was still not given any
information on counting carbohydrates.
He says, "I left university in 2003 and
took on my first job, with which I travelled
a lot. It was with General Electric within
the finance department and, being part of
a graduate leadership program, I rotated
through jobs in Europe, the US, Asia and
South America, but always came back
to the UK for visits and annual health
reviews. I just got on with it and felt that
my control was pretty much okay. I used
to take supplies with me and stayed at
corporate apartments or hotels, so there
were people around me and appropriate
facilities in which to store insulin. I believe
that people with diabetes instinctively
learn about the impact of foods on our
control because of blood testing, plus I
had a maths background and ultimately
wasn't too bothered by having the
condition itself. It didn't majorly impact
my life and I felt better than when I'd been
ill. Once diagnosed, I never looked back.
It never stopped me from my social life,
career or with sports."
In 2008 Smith finally ended up in
ADVERTORIAL
CLICK THE PIC to download the Omnipod DASH™ System brochure.
London within King's College Hospital's
catchment area. It was only then that it
was suggested that he did a DAFNE
course (Dose Adjustment for Normal
Eating). He says, "My control improved a
little but not massively. At this point I was
cycling to work from my home Clapham to
the office in Reigate, but doing little other
exercise. Due to taking part in a corporate
sports event I won a prize which gave me
a place in an Olympic distance triathlon
at Hyde Park. At which point I started
to do some serious training! This was
in 2011 and I spoke the team at Kings
and they took an interest. I was offered
an insulin pump trial using a tubed pump
with connected sensor. In the background
I continued having conversations with my
healthcare team."
Four-year Upgrade
As with many people with diabetes, using
diabetes technology is a gradual curve
upwards relating to need, accessibility and
preference. Smith felt that moving from
multiple daily injections to a pump was a