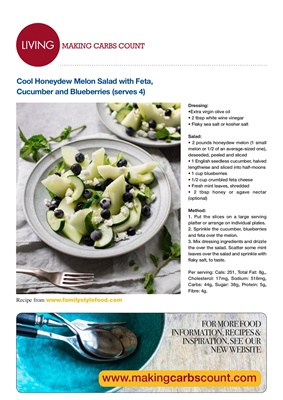 LIVINGLIVING
Cool Honeydew Melon Salad with Feta,
Cucumber and Blueberries (serves 4)
MAKING CARBS COUNT
Dressing:
•Extra virgin olive oil
• 2 tbsp white wine vinegar
• Flaky sea salt or kosher salt
Salad:
• 2 pounds honeydew melon (1 small
melon or 1/2 of an average-sized one),
deseeded, peeled and sliced
• 1 English seedless cucumber, halved
lengthwise and sliced into half-moons
• 1 cup blueberries
• 1/2 cup crumbled feta cheese
• Fresh mint leaves, shredded
• 2 tbsp honey or agave nectar
(optional)
Method:
1. Put the slices on a large serving
platter or arrange on individual plates.
2. Sprinkle the cucumber, blueberries
and feta over the melon.
3. Mix dressing ingredients and drizzle
the over the salad. Scatter some mint
leaves over the salad and sprinkle with
flaky salt, to taste.
Per serving: Cals: 251, Total Fat: 8g,,
Cholesterol: 17mg, Sodium: 516mg,
Carbs: 44g, Sugar: 38g, Protein: 5g,
Fibre: 4g.
FOR MORE FOOD
INFORMATION, RECIPES &
INSPIRATION, SEE OUR
NEW WEBSITE
Recipe from www.familystylefood.com