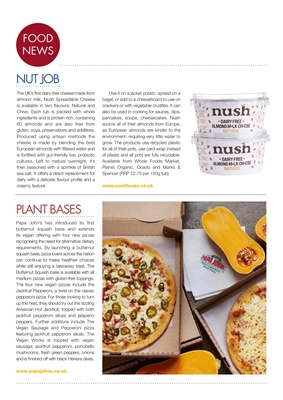 LIVINGLIVING
FOOD
NEWS
PLANT BASES
NUT JOB
Papa John's has introduced its first
butternut squash base and extends
its vegan offering with four new pizzas
recognising the need for alternative dietary
requirements. By launching a butternut
squash base, pizza lovers across the nation
can continue to make healthier choices
while still enjoying a takeaway treat. The
Butternut Squash base is available with all
medium pizzas with gluten-free toppings.
The four new vegan pizzas include the
Jackfruit Pepperoni, a twist on the classic
pepperoni pizza. For those looking to turn
up the heat, they should try out the sizzling
American Hot Jackfruit, topped with both
jackfruit pepperoni slices and jalapeno
peppers. Further additions include The
Vegan Sausage and Pepperoni pizza
featuring jackfruit pepperoni slices. The
Vegan Works is topped with vegan
sausage, jackfruit pepperoni, portobello
mushrooms, fresh green peppers, onions
and is finished off with black Herrera olives.
The UK's first dairy-free cheese made from
almond milk, Nush Spreadable Cheese
is available in two flavours, Natural and
Chive. Each tub is packed with whole
ingredients and is protein-rich, containing
60 almonds and are also free from
gluten, soya, preservatives and additives.
Produced using artisan methods the
cheese is made by blending the best
European almonds with filtered water and
is fortified with gut-friendly live, probiotic
cultures. Left to mature overnight, it's then
seasoned with a sprinkle of British sea
salt. It offers a direct replacement for dairy
with a delicate flavour profile and creamy
texture. Use it on a jacket potato, spread
a bagel or added to a cheeseboard
to spread on crackers or paired with
vegetable crudités. It can also be used
in cooking for sauces, dips, pancakes,
soups, cheesecakes. Nush source all of
their almonds from Europe, as European
almonds are kinder to the environment,
requiring very little water to grow. The
products use recycled plastic for all of their
pots, use card wrap instead of plastic and
all pots are fully recyclable. Available from
Whole Foods Market, Planet Organic,
Ocado and Marks & Spencer (RRP £2.75
per 150g tub).