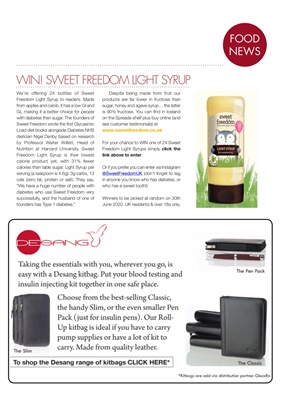 KITLIVING
WIN! SWEET FREEDOM LIGHT SYRUP
FOOD
NEWS
We're offering 24 bottles of Sweet
Freedom Light Syrup to readers. Made
from apples and carob, it has a low GI and
GL making it a better choice for people
with diabetes than sugar. The founders of
Sweet Freedom wrote the first Glycaemic
Load diet books alongside Diabetes NHS
dietician Nigel Denby based on research
by Professor Walter Willett, Head of
Nutrition at Harvard University. Sweet
Freedom Light Syrup is their lowest
calorie product yet, with 31% fewer
calories than table sugar. Light Syrup per
serving (a teaspoon is 4.6g): 3g carbs, 13
cals (zero fat, protein or salt). They say,
"We have a huge number of people with
diabetes who use Sweet Freedom very
successfully, and the husband of one of
founders has Type 1 diabetes."
Despite being made from fruit our
products are far lower in fructose than
sugar, honey and agave syrup… the latter
is 90% fructose. You can find in Iceland
on the Spreads shelf plus buy online (and
see customer testimonials) at
For your chance to WIN one of 24 Light
Syrups simply:
1. Follow @diabetesmagazine and
@sweetfreedomuk
2. Like the competition post over on
@sweetfreedomuk
3. Tag in anyone you know who has
diabetes (or who has a sweet tooth!)
Winners to be picked at random on 30
June 2020. UK residents & over 18s only.