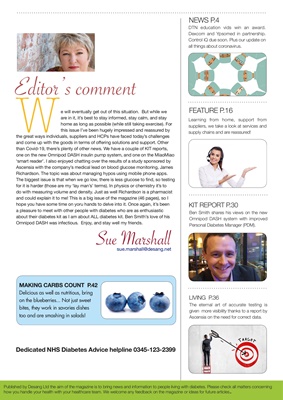 Published by Desang Ltd the aim of the magazine is to bring news and information to people living with diabetes. Please check all matters concerning
how you handle your health with your healthcare team. We welcome any feedback on the magazine or ideas for future articles..
Sue Marshall
Never t
Editor's comment
We tal.
COMPANY PROFILE P.30
NEWS P.4
Finding T2 at the dentists. An 'artificial pancreas' app is launched.
Calls for better care for our feet.
learning from home and support
FEATURE P.18
MAKING CARBS COUNT P.36
Delicious as well as nutritious, bring
on the blueberries... Not just sweet
bites, they work in savories too!
learning from home and support
MAKING CARBS COUNT P.36