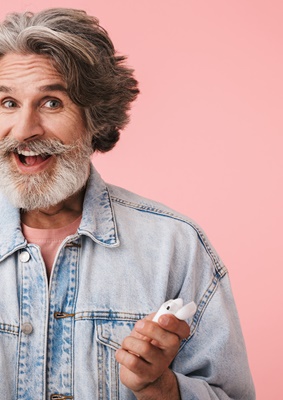 KITLIVING
Bell peppers are highly
nutritious - particularly
the red varieties - and,
despite a high-water
content (around 92%),
they owe their sweet taste to the rest of
the pepper primarily made up of carbs.
They're also a good source of fibre. But
wait, there's more. They're a veritable
loaded health weapon with an arsenal
of vitamins and minerals inside. A single
bell pepper is packed with up to 169%
of your recommended daily intake (RDI)
of vitamin C, while other nutrients include
vitamin K1, vitamin E, vitamin A, folate,
and potassium. Antioxidants play a role
too, with capsanthin, violaxanthin, lutein,
quercetin, and luteolin - linked to various
health benefits - all found in bell peppers.
Taste the colours
Red, yellow, green and orange - and
sometimes varying shades in between -
peppers vary in taste depending on their
colour.
Green: All bell peppers are green before
they ripen. Green peppers are harvested
before they ripen, giving them more of a
bitter taste to its colourful and sweeter
siblings. Because of this, they're also the
least nutritious; red bell peppers have
around 11 times more beta-carotene,
twice as much vitamin C, and 10 times
more vitamin A. What they may lack in
sweetness, however, green peppers have
a mild spicy aromatic flavour.
Red: Combining the sweetness of yellow
and orange peppers with the spiciness of
100g (3oz) of raw, red bell pepper
contains: Calories: 31, Protein: 1g,
Carbs: 6g (of which sugars: 4.2g), Fibre:
2.1g, Fat: 0.3g.
Nutrition
MAKING CARBS COUNT Recipe overleaf
green peppers, red peppers are perfect
for most dishes.
Yellow: Soft, sweet and refreshing,
yellow peppers are great in salads and for
crudités.
Orange: The sweetest of them all, making
them particularly lovely to enjoy raw but
serve just as well in hot, cooked dishes -
kids are bound to love them, too!
Get cooking!
Bell peppers complement most dishes,
making them a great, versatile addition to
any menu. The possibilities are endless:
• For added texture and crunch, add
fresh, raw strips to salads or throw them
into stir-fries. Cut into rings for pizza
toppings and cube for pasta dishes.
• Snack attack: Grill pepper strips with a
little olive oil, then serve with cheese or
your favourite dips.
• Whip up a sauce: Roast two red peppers
then blend with a clove of garlic, a tomato
and a dash of olive oil. Simmer for about
five minutes and serve over grilled chicken
breast, white fish or roast potatoes.
• Jazz up kebabs: Chop into chunks and
alternate your skewers with the pepper,
alongside cheeses, meats and another
veg of your choice.
• Make a rainbow pasta salad: Toss
cooked pasta with slices of yellow, green
and red peppers, a handful of cherry
tomato halves, diced parsley and a little
olive oil. Finish with olives and season to
taste.
Show boating
Make peppers the stars of the show
by using them as fillable boats for other
foodstuffs. Chop off the top, deseed
then stuff with cooked rice, meat and/or
cheese. Pop the lid back on, cover with
foil, then roast for around 35 minutes at
180ºC (fan oven). Remove the foil, then
bake for roughly another 10 minutes until
the cheese is golden and bubbly. See
fuller recipes and suggestions overleaf.
Sources
healthline.com
gardenfocused.co.uk
besthealthmag.ca
dishably.com
itspeppertime.co.uk