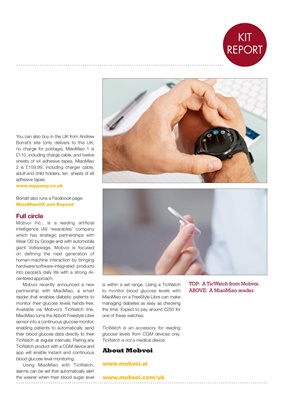 KITLIVING
KIT
REPORT
You can also buy in the UK from Andrew
Borrat's site (only delivers to the UK,
no charge for postage). MiaoMiao 1 is
£110, including charge cable, and twelve
sheets of x4 adhesive tapes. MiaoMiao
2 is £159.99, including charger cable,
adult and child holders, ten sheets of x8
adhesive tapes.
Borratt also runs a Facebook page:
MiaoMiaoUK and Beyond
Full circle
Mobvoi Inc., is a leading artificial
intelligence (AI) 'wearables' company
which has strategic partnerships with
Wear OS by Google and with automobile
giant Volkswage. Mobvoi is focused
on defining the next generation of
human-machine interaction by bringing
hardware/software-integrated products
into people's daily life with a strong AIcentered
approach.
Mobvoi recently announced a new
partnership with MiaoMiao, a smart
reader that enables diabetic patients to
monitor their glucose levels hands-free.
Available via Mobvoi's TicWatch line,
MiaoMiao turns the Abbott Freestyle Libre
sensor into a continuous glucose monitor,
enabling patients to automatically send
their blood glucose data directly to their
TicWatch at regular intervals. Pairing any
TicWatch product with a CGM device and
app will enable instant and continuous
blood glucose level monitoring.
Using MiaoMiao with TicWatch,
alarms can be set that automatically alert
the wearer when their blood sugar level
is within a set range. Using a TicWatch
to monitor blood glucose levels with
MiaoMiao on a FreeStyle Libre can make
managing diabetes as easy as checking
the time. Expect to pay around £250 for
one of these watches.
TicWatch is an accessory for reading
glucose levels from CGM devices only.
TicWatch is not a medical device.
About Mobvoi
TOP: A TicWatch from Mobvoi.
ABOVE: A MiaoMiao reader.