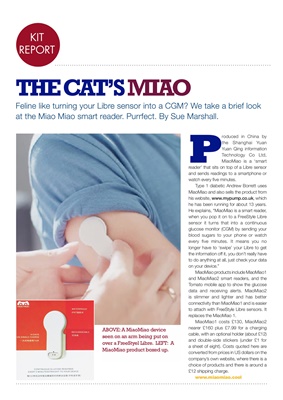 KIT
THE CAT'S MIAO
Feline like turning your Libre sensor into a CGM? We take a brief look
at the Miao Miao smart reader. Purrfect. By Sue Marshall.
P
roduced in China by
the Shanghai Yuan
Yuan Qing information
Technology Co Ltd,
MiaoMiao is a 'smart
reader' that sits on top of a Libre sensor
and sends readings to a smartphone or
watch every five minutes.
Type 1 diabetic Andrew Borrett uses
MiaoMiao and also sells the product from
his website, www.mypump.co.uk, which
he has been running for about 13 years.
He explains, "MiaoMiao is a smart reader,
when you pop it on to a FreeStyle Libre
sensor it turns that into a continuous
glucose monitor (CGM) by sending your
blood sugars to your phone or watch
every five minutes. It means you no
longer have to 'swipe' your Libre to get
the information off it, you don't really have
to do anything at all, just check your data
on your device."
MiaoMiao products include MiaoMiao1
and MiaoMiao2 smart readers, and the
Tomato mobile app to show the glucose
data and receiving alerts. MiaoMiao2
is slimmer and lighter and has better
connectivity than MiaoMiao1 and is easier
to attach with FreeStyle Libre sensors. It
replaces the MiaoMiao 1.
MiaoMiao1 costs £130, MiaoMiao2
nearer £160 plus £7.99 for a charging
cable, with an optional holder (about £12)
and double-side stickers (under £1 for
a sheet of eight). Costs quoted here are
converted from prices in US dollars on the
company's own website, where there is a
choice of products and there is around a
£12 shipping charge.
ABOVE: A MiaoMiao device
seen on an arm being put on
over a FreeStyel Libre. LEFT: A
MiaoMiao product boxed up.
KIT
REPORT