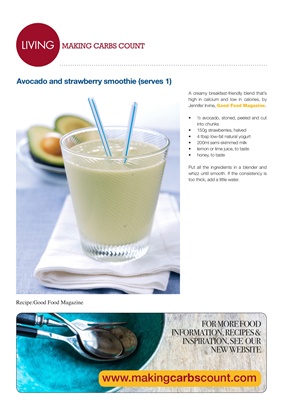 LIVINGLIVING
Avocado and strawberry smoothie (serves 1)
MAKING CARBS COUNT
A creamy breakfast-friendly blend that's
high in calcium and low in calories, by
Jennifer Irvine, Good Food Magazine.
• ½ avocado, stoned, peeled and cut
into chunks
• 150g strawberries, halved
• 4 tbsp low-fat natural yogurt
• 200ml semi-skimmed milk
• lemon or lime juice, to taste
• honey, to taste
Put all the ingredients in a blender and
whizz until smooth. If the consistency is
too thick, add a little water.
FOR MORE FOOD
INFORMATION, RECIPES &
INSPIRATION, SEE OUR
NEW WEBSITE
Recipe:Good Food Magazine