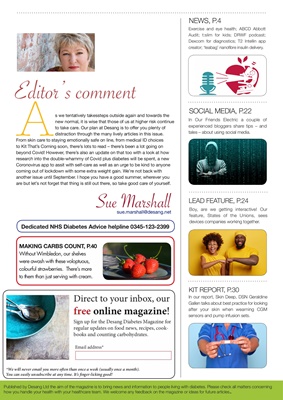 Published by Desang Ltd the aim of the magazine is to bring news and information to people living with diabetes. Please check all matters concerning
how you handle your health with your healthcare team. We welcome any feedback on the magazine or ideas for future articles..
Sue Marshall
As the country tentatively takes
Editor's comment
Looking Jump!
FEATURE P.28
NEWS P.4
James Norton, MiniMed 780g CE Mark,
fast snail insulin (really), iCGM in the USA
from Abbott. Intro offer on new, slimmer
Touchcare sensor from Medtrum.
A new safer needle from Owen Mumford.
A new Dose Coach app from Agamatrix.
Special 50% off on LifeinaBox fridge.
KIT P.14
MY DIABETES KIT P.34
What is fibre, why do we need it,
and how do we know how much
is in our food? Almonds, avocados
and figs are all good sources.
Tim Street s
MAKING CARBS COUNT P.48
Dedicated NHS Diabetes Advice helpline 0345-123-2399