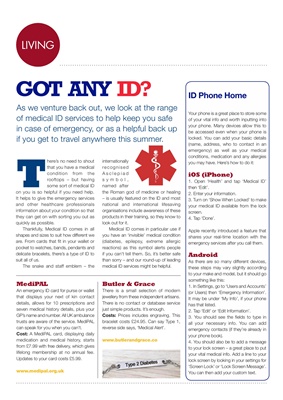 LIVINGLIVING
GOT ANY ID?
As we venture back out, we look at the range
of medical ID services to help keep you safe
in case of emergency, or as a helpful back up
if you get to travel anywhere this summer.
There's no need to shout
that you have a medical
condition from the
rooftops - but having
some sort of medical ID
on you is so helpful if you need help.
It helps to give the emergency services
and other healthcare professionals
information about your condition so that
they can get on with sorting you out as
quickly as possible.
Thankfully, Medical ID comes in all
shapes and sizes to suit how different we
are. From cards that fit in your wallet or
pocket to watches, bands, pendants and
delicate bracelets, there's a type of ID to
suit all of us.
The snake and staff emblem - the
MediPAL
An emergency ID card for purse or wallet
that displays your next of kin contact
details, allows for 10 prescriptions and
seven medical history details, plus your
GP's name and number. All UK ambulance
trusts are aware of the service. MediPAL
can speak for you when you can't.
Cost: A MediPAL card, displaying daily
medication and medical history, starts
from £7.99 with free delivery, which gives
lifelong membership at no annual fee.
Updates to your card costs £5.99.
ID Phone Home
Your phone is a great place to store some
of your vital info and worth inputting into
your phone. Many devices allow this to
be accessed even when your phone is
locked. You can add your basic details
(name, address, who to contact in an
emergency) as well as your medical
conditions, medication and any allergies
you may have. Here's how to do it:
iOS (iPhone)
1. Open 'Health' and tap 'Medical ID'
then 'Edit'.
2. Enter your information.
3. Turn on 'Show When Locked' to make
your medical ID available from the lock
screen.
4. Tap 'Done'.
Apple recently introduced a feature that
shares your real-time location with the
emergency services after you call them.
Android
As there are so many different devices,
these steps may vary slightly according
to your make and model, but it should go
something like this:
1. In Settings, go to 'Users and Accounts'
(or Users) then 'Emergency Information'.
It may be under 'My Info', if your phone
has that listed.
2. Tap 'Edit' or 'Edit Information'.
3. You should see the fields to type in
all your necessary info. You can add
emergency contacts (if they're already in
your phone book).
4. You should also be to add a message
to your lock screen - a great place to put
your vital medical info. Add a line to your
lock screen by looking in your settings for
'Screen Lock' or 'Lock Screen Message'.
You can then add your custom text.
internationally
recognised
Asclepiad
symbol,
named after
the Roman god of medicine or healing
- is usually featured on the ID and most
national and international lifesaving
organisations include awareness of these
products in their training, so they know to
look out for it.
Medical ID comes in particular use if
you have an 'invisible' medical condition
(diabetes, epilepsy, extreme allergic
reactions) as this symbol alerts people
if you can't tell them. So, it's better safe
than sorry - and our round-up of leading
medical ID services might be helpful.
Butler & Grace
There is a small selection of modern
jewellery from these independent artisans.
There is no contact or database service
just simple products. It's enough.
Costs: Prices includes engraving. This
bracelet costs £24.95. Can say Type 1,
reverse side says, 'Medical Alert'.