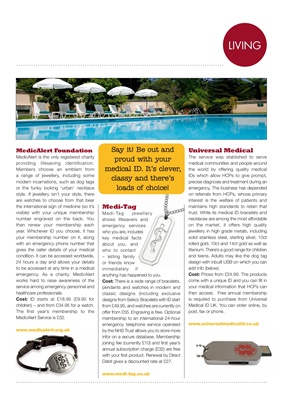 KITLIVING
MedicAlert Foundation
MedicAlert is the only registered charity
providing lifesaving identification.
Members choose an emblem from
a range of jewellery, including some
modern incarnations, such as dog tags
or the funky looking 'urban' necklace
style. If jewellery isn't your style, there
are watches to choose from that bear
the international sign of medicine (so it's
visible) with your unique membership
number engraved on the back. You
then renew your membership each
year. Whichever ID you choose, it has
your membership number on it, along
with an emergency phone number that
gives the caller details of your medical
condition. It can be accessed worldwide,
24 hours a day and allows your details
to be accessed at any time in a medical
emergency. As a charity, MedicAlert
works hard to raise awareness of the
service among emergency personnel and
healthcare professionals.
Cost: ID starts at £18.95 (£9.95 for
children) - and from £34.95 for a watch.
The first year's membership to the
MedicAlert Service is £32.
Universal Medical
The service was stablished to serve
medical communities and people around
the world by offering quality medical
IDs which allow HCPs to give prompt,
precise diagnosis and treatment during an
emergency. The business has depended
on referrals from HCPs, whose primary
interest is the welfare of patients and
maintains high standards to retain that
trust. While its medical ID bracelets and
necklaces are among the most affordable
on the market, it offers high quality
jewellery in high grade metals, including
solid stainless steel, sterling silver, 10ct
rolled gold, 10ct and 14ct gold as well as
titanium. There's a good range for children
and teens. Adults may like the dog tag
design with inbuilt USB on which you can
add info (below).
Cost: Prices from £24.99. The products
come with a unique ID and you can fill in
your medical information that HCPs can
then access. Free annual membership
is required to purchase from Universal
Medical ID UK. You can order online, by
post, fax or phone.
Medi-Tag
Medi-Tag jewellery
shows lifesavers and
emergency services
who you are, includes
key medical facts
about you, and
who to contact
- letting family
or friends know
immediately if
anything has happened to you.
Cost: There is a wide range of bracelets,
pendants and watches in modern and
classic designs (including exclusive
designs from Seiko). Bracelets with ID start
from £49.95, and watches are currently on
offer from £55. Engraving is free. Optional
membership to an international 24-hour
emergency telephone service operated
by the NHS Trust allows you to store more
infor on a secure database. Membership
joining fee (currently £10) and first year's
annual subscription charge (£32) are free
with your first product. Renewal by Direct
Debit gives a discounted rate at £27.
Say it! Be out and
proud with your
medical ID. It's clever,
classy and there's
loads of choice!