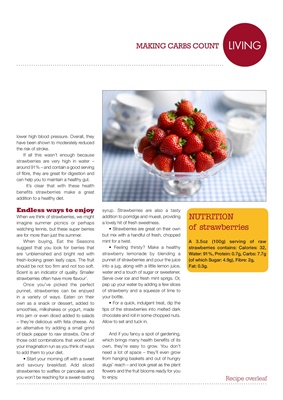 KITLIVING
MAKING CARBS COUNT Recipe overleaf
lower high blood pressure. Overall, they
have been shown to moderately reduced
the risk of stroke.
If all this wasn't enough because
strawberries are very high in water -
around 91% - and contain a good serving
of fibre, they are great for digestion and
can help you to maintain a healthy gut.
It's clear that with these health
benefits strawberries make a great
addition to a healthy diet.
Endless ways to enjoy
When we think of strawberries, we might
imagine summer picnics or perhaps
watching tennis, but these super berries
are for more than just the summer.
When buying, Eat the Seasons
suggest that you look for berries that
are 'unblemished and bright red with
fresh-looking green leafy caps. The fruit
should be not too firm and not too soft.
Scent is an indicator of quality. Smaller
strawberries often have more flavour'.
Once you've picked the perfect
punnet, strawberries can be enjoyed
in a variety of ways. Eaten on their
own as a snack or dessert, added to
smoothies, milkshakes or yogurt, made
into jam or even diced added to salads
- they're delicious with feta cheese. As
an alternative try adding a small grind
of black pepper to raw strawbs. One of
those odd combinations that works! Let
your imagination run as you think of ways
to add them to your diet.
• Start your morning off with a sweet
and savoury breakfast. Add sliced
strawberries to waffles or pancakes and
you won't be reaching for a sweet-tasting
syrup. Strawberries are also a tasty
addition to porridge and muesli, providing
a lovely hit of fresh sweetness.
• Strawberries are great on their own
but mix with a handful of fresh, chopped
mint for a twist.
• Feeling thirsty? Make a healthy
strawberry lemonade by blending a
punnet of strawberries and pour the juice
into a jug, along with a little lemon juice,
water and a touch of sugar or sweetener.
Serve over ice and fresh mint sprigs. Or,
pep up your water by adding a few slices
of strawberry and a squeeze of lime to
your bottle.
• For a quick, indulgent treat, dip the
tips of the strawberries into melted dark
chocolate and roll in some chopped nuts.
Allow to set and tuck in.
And if you fancy a spot of gardening,
which brings many health benefits of its
own, they're easy to grow. You don't
need a lot of space - they'll even grow
from hanging baskets and out of hungry
slugs' reach - and look great as the plant
flowers and the fruit blooms ready for you
to enjoy.
NUTRITION
of strawberries
A 3.5oz (100g) serving of raw
strawberries contains: Calories: 32,
Water: 91%, Protein: 0.7g, Carbs: 7.7g
(of which Sugar: 4.9g), Fibre: 2g, Fat:
0.3g.