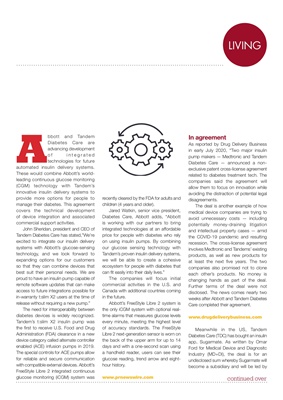 KITLIVING
Abbott and Tandem
Diabetes Care are
advancing development
of integrated
technologies for future
automated insulin delivery systems.
These would combine Abbott's worldleading continuous
glucose monitoring
(CGM) technology with Tandem's
innovative insulin delivery systems to
provide more options for people to
manage their diabetes. This agreement
covers the technical development
of device integration and associated
commercial support activities.
John Sheridan, president and CEO of
Tandem Diabetes Care has stated,"We're
excited to integrate our insulin delivery
systems with Abbott's glucose-sensing
technology, and we look forward to
expanding options for our customers
so that they can combine devices that
best suit their personal needs. We are
proud to have an insulin pump capable of
remote software updates that can make
access to future integrations possible for
in-warranty t:slim X2 users at the time of
release without requiring a new pump."
The need for interoperability between
diabetes devices is widely recognized.
Tandem's t:slim X2 insulin pump was
the first to receive U.S. Food and Drug
Administration (FDA) clearance in a new
device category called alternate controller
enabled (ACE) infusion pumps in 2019.
The special controls for ACE pumps allow
for reliable and secure communication
with compatible external devices. Abbott's
FreeStyle Libre 2 integrated continuous
glucose monitoring (iCGM) system was
recently cleared by the FDA for adults and
children (4 years and older).
Jared Watkin, senior vice president,
Diabetes Care, Abbott adds, "Abbott
is working with our partners to bring
integrated technologies at an affordable
price for people with diabetes who rely
on using insulin pumps. By combining
our glucose sensing technology with
Tandem's proven insulin delivery systems,
we will be able to create a cohesive
ecosystem for people with diabetes that
can fit easily into their daily lives."
The companies will focus initial
commercial activities in the U.S. and
Canada with additional countries coming
in the future.
Abbott's FreeStyle Libre 2 system is
the only iCGM system with optional realtime alarms that measures
glucose levels
every minute, meeting the highest level
of accuracy standards. The FreeStyle
Libre 2 next-generation sensor is worn on
the back of the upper arm for up to 14
days and with a one-second scan using
a handheld reader, users can see their
glucose reading, trend arrow and eighthour history.
In agreement
As reported by Drug Delivery Business
in early July 2020, "Two major insulin
pump makers - Medtronic and Tandem
Diabetes Care - announced a nonexclusive patent cross-license
agreement
related to diabetes treatment tech. The
companies said the agreement will
allow them to focus on innovation while
avoiding the distraction of potential legal
disagreements.
The deal is another example of how
medical device companies are trying to
avoid unnecessary costs - including
potentially money-draining litigation
and intellectual property cases - amid
the COVID-19 pandemic and resulting
recession. The cross-license agreement
involves Medtronic and Tandems' existing
products, as well as new products for
at least the next five years. The two
companies also promised not to clone
each other's products. No money is
changing hands as part of the deal.
Further terms of the deal were not
disclosed. The news comes nearly two
weeks after Abbott and Tandem Diabetes
Care completed their agreement.
Meanwhile in the US, Tandem
Diabetes Care (TDC) has bought an insulin
app, Sugarmate. As written by Omar
Ford for Medical Device and Diagnositc
Industry (MD+DI), the deal is for an
undisclosed sum whereby Sugarmate will
become a subsidiary and will be led by
continued over