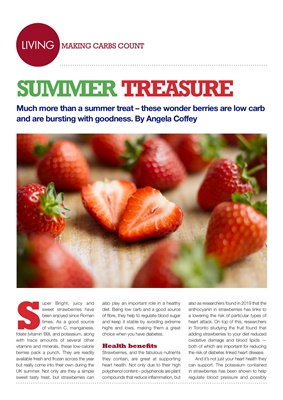 LIVINGLIVING MAKING CARBS COUNT
Much more than a summer treat - these wonder berries are low carb
and are bursting with goodness. By Angela Coffey
SUMMER TREASURE
Super Bright, juicy and
sweet strawberries have
been enjoyed since Roman
times. As a good source
of vitamin C, manganese,
folate (vitamin B9), and potassium, along
with trace amounts of several other
vitamins and minerals, these low-calorie
berries pack a punch. They are readily
available fresh and frozen across the year
but really come into their own during the
UK summer. Not only are they a simple
sweet tasty treat, but strawberries can
also play an important role in a healthy
diet. Being low carb and a good source
of fibre, they help to regulate blood sugar
and keep it stable by avoiding extreme
highs and lows, making them a great
choice when you have diabetes.
Health benefits
Strawberries, and the fabulous nutrients
they contain, are great at supporting
heart health. Not only due to their high
polyphenol content - polyphenols are plant
compounds that reduce inflammation, but
also as researchers found in 2019 that the
anthocyanin in strawberries has links to
a lowering the risk of particular types of
heart attack. On top of this, researchers
in Toronto studying the fruit found that
adding strawberries to your diet reduced
oxidative damage and blood lipids -
both of which are important for reducing
the risk of diabetes linked heart disease.
And it's not just your heart health they
can support. The potassium contained
in strawberries has been shown to help
regulate blood pressure and possibly