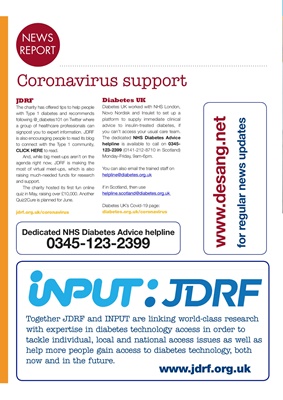 NEWS
NEWS
REPORT
Together JDRF and INPUT are linking world-class research
with expertise in diabetes technology access in order to
tackle individual, local and national access issues as well as
help more people gain access to diabetes technology, both
now and in the future.
JDRF
The charity has offered tips to help people
with Type 1 diabetes and recommends
following @_diabetes101 on Twitter where
a group of healthcare professionals can
signpost you to expert information. JDRF
is also encouraging people to read its blog
to connect with the Type 1 community,
CLICK HERE to read.
And, while big meet-ups aren't on the
agenda right now, JDRF is making the
most of virtual meet-ups, which is also
raising much-needed funds for research
and support.
The charity hosted its first fun online
quiz in May, raising over £10,000. Another
Quiz2Cure is planned for June.
jdrf.org.uk/coronavirus
Coronavirus support
Diabetes UK
Diabetes UK worked with NHS London,
Novo Nordisk and Insulet to set up a
platform to supply immediate clinical
advice to insulin-treated diabetes, if
you can't access your usual care team.
The dedicated NHS Diabetes Advice
helpline is available to call on 0345-
123-2399 (0141-212-8710 in Scotland)helpline@diabetes.org.ukm-6pm.
You can also email the trhelpline.scotland@diabetes.org.ukbetes.org.uk
if in Scotland, then use
helpline.scotland@diabetes.org.uk
Diabetes UK's Covid-19 page:
diabetes.org.uk/coronavirus
for regular news updatesDedicated NHS Diabetes Advice helpline
0345-123-2399