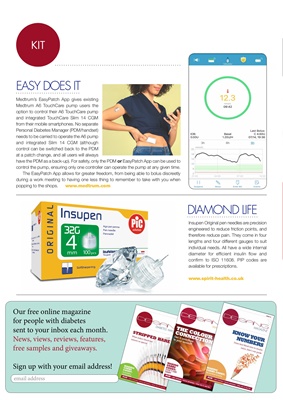 KIT
DIAMOND LIFE
Insupen Original pen needles are precision
engineered to reduce friction points, and
therefore reduce pain. They come in four
lengths and four different gauges to suit
individual needs. All have a wide internal
diameter for efficient insulin flow and
confirm to ISO 11608. PIP codes are
available for prescriptions.
Medtrum's EasyPatch App gives existing
Medtrum A6 TouchCare pump users the
option to control their A6 TouchCare pump
and integrated TouchCare Slim 14 CGM
from their mobile smartphones. No separate
Personal Diabetes Manager (PDM/handset)
needs to be carried to operate the A6 pump
and integrated Slim 14 CGM (although
control can be switched back to the PDM
at a patch change, and all users will always
have the PDM as a back-up). For safety, only the PDM or EasyPatch App can be used to
control the pump, ensuring only one controller can operate the pump at any given time.
The EasyPatch App allows for greater freedom, from being able to bolus discreetly
during a work meeting to having one less thing to remember to take with you when
popping to the shops. www.medtrum.com
EASY DOES IT
Our free online magazine
for people with diabetes
sent to your inbox each month.
News, views, reviews, features,
free samples and giveaways.
Sign up with your email address!
email address