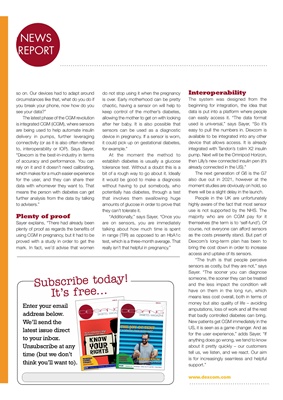 NEWS
ISSUE 88
DIABETES MAGAZINE
DESANG
MAKING
CARBS
COUNT:
SWEET POTATO
PLUS • Diabetes kit • Giveaways • News (for T1 and T2) • Food News
Access to blood test strips
and meters: your choice
PLUS:
Screen Time
(part 2): meters
Subscribe today!
Enter your email
address below.
We'll send the
latest issue direct
to your inbox.
Unsubscribe at any
time (but we don't
think you'll want to).
It's free...
so on. Our devices had to adapt around
circumstances like that, what do you do if
you break your phone, now how do you
see your data?"
The latest phase of the CGM revolution
is integrated CGM (iCGM), where sensors
are being used to help automate insulin
delivery in pumps, further leveraging
connectivity (or as it is also often referred
to, interoperability or IOP). Says Sayer,
"Dexcom is the best-in-industry in terms
of accuracy and performance. You can
rely on it and it doesn't need calibrating,
which makes for a much easier experience
for the user, and they can share their
data with whomever they want to. That
means the person with diabetes can get
further analysis from the data by talking
to advisers."
Plenty of proof
Sayer explains, "There had already been
plenty of proof as regards the benefits of
using CGM in pregnancy, but it had to be
proved with a study in order to get the
mark. In fact, we'd advise that women
do not stop using it when the pregnancy
is over. Early motherhood can be pretty
chaotic, having a sensor on will help to
keep control of the mother's diabetes,
allowing the mother to get on with looking
after her baby. It is also possible that
sensors can be used as a diagnostic
device in pregnancy. If a sensor is worn,
it could pick up on gestational diabetes,
for example."
At the moment the method to
establish diabetes is usually a glucose
tolerance test. Without a doubt this is a
bit of a rough way to go about it. Ideally
it would be good to make a diagnosis
without having to put somebody, who
potentially has diabetes, through a test
that involves them swallowing huge
amounts of glucose in order to prove that
they can't tolerate it.
"Additionally," says Sayer, "Once you
are on sensors, you are immediately
talking about how much time is spent
in range (TIR) as opposed to an HbA1c
test, which is a three-month average. That
really isn't that helpful in pregnancy."
Interoperability
The system was designed from the
beginning for integration, the idea that
data is put into a platform where people
can easily access it. "The data format
used is universal," says Sayer, "So it's
easy to pull the numbers in. Dexcom is
available to be integrated into any other
device that allows access. It is already
integrated with Tandon's t:slim X2 insulin
pump. Next will be the Omnipod Horizon,
then Lilly's new connected insulin pen (it's
already connected in the US)."
The next generation of G6 is the G7
also due out in 2021, however at the
moment studies are obviously on hold, so
there will be a slight delay in the launch.
People in the UK are unfortunately
highly aware of the fact that most sensor
use is not supported by the NHS. The
majority who are on CGM pay for it
themselves (the term is to 'self-fund'). Of
course, not everyone can afford sensors
as the costs presently stand. But part of
Dexcom's long-term plan has been to
bring the cost down in order to increase
access and uptake of its sensors.
"The truth is that people perceive
sensors as costly, but they are not," says
Sayer. "The sooner you can diagnose
someone, the sooner they can be treated
and the less impact the condition will
have on them in the long run, which
means less cost overall, both in terms of
money but also quality of life - avoiding
amputations, loss of work and all the rest
that badly controlled diabetes can bring.
New patients get CGM immediately in the
US, it is seen as a game changer. And as
for the user experience," adds Sayer, "If
anything does go wrong, we tend to know
about it pretty quickly - our customers
tell us, we listen, and we react. Our aim
is for increasingly seamless and helpful
support."
NEWS
REPORT