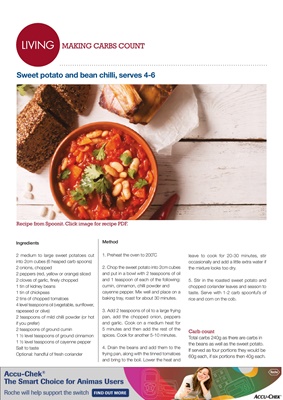 LIVINGLIVING
Sweet potato and bean chilli, serves 4-6
Ingredients
2 medium to large sweet potatoes cut
into 2cm cubes (6 heaped carb spoons)
2 onions, chopped
2 peppers (red, yellow or orange) sliced
2 cloves of garlic, finely chopped
1 tin of kidney beans
1 tin of chickpeas
2 tins of chopped tomatoes
4 level teaspoons oil (vegetable, sunflower,
rapeseed or olive)
2 teaspoons of mild chilli powder (or hot
if you prefer)
2 teaspoons of ground cumin
1 ½ level teaspoons of ground cinnamon
1 ½ level teaspoons of cayenne pepper
Salt to taste
Optional: handful of fresh coriander
MAKING CARBS COUNT
Recipe from Spoonit. Click image for recipe PDF.
Method
1. Preheat the oven to 200˚C
2. Chop the sweet potato into 2cm cubes
and put in a bowl with 2 teaspoons of oil
and 1 teaspoon of each of the following:
cumin, cinnamon, chilli powder and
cayenne pepper. Mix well and place on a
baking tray, roast for about 30 minutes.
3. Add 2 teaspoons of oil to a large frying
pan, add the chopped onion, peppers
and garlic. Cook on a medium heat for
5 minutes and then add the rest of the
spices. Cook for another 5-10 minutes.
4. Drain the beans and add them to the
frying pan, along with the tinned tomatoes
and bring to the boil. Lower the heat and
leave to cook for 20-30 minutes, stir
occasionally and add a little extra water if
the mixture looks too dry.
5. Stir in the roasted sweet potato and
chopped coriander leaves and season to
taste. Serve with 1-2 carb spoonful's of
rice and corn on the cob.
Carb count
Total carbs 240g as there are carbs in
the beans as well as the sweet potato.
If served as four portions they would be
60g each, if six portions then 40g each.