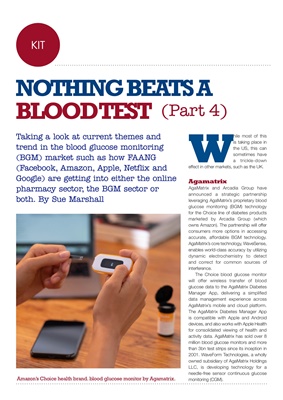 LIVINGLIVING
NOTHING BEATS A
BLOOD TEST
Taking a look at current themes and
trend in the blood glucose monitoring
(BGM) market such as how FAANG
(Facebook, Amazon, Apple, Netflix and
Google) are getting into either the online
pharmacy sector, the BGM sector or
both. By Sue Marshall
W
hile most of this
is taking place in
the US, this can
sometimes have
a trickle-down
effect in other markets, such as the UK.
Agamatrix
AgaMatrix and Arcadia Group have
announced a strategic partnership
leveraging AgaMatrix's proprietary blood
glucose monitoring (BGM) technology
for the Choice line of diabetes products
marketed by Arcadia Group (which
owns Amazon). The partnership will offer
consumers more options in accessing
accurate, affordable BGM technology.
AgaMatrix's core technology, WaveSense,
enables world-class accuracy by utilizing
dynamic electrochemistry to detect
and correct for common sources of
interference.
The Choice blood glucose monitor
will offer wireless transfer of blood
glucose data to the AgaMatrix Diabetes
Manager App, delivering a simplified
data management experience across
AgaMatrix's mobile and cloud platform.
The AgaMatrix Diabetes Manager App
is compatible with Apple and Android
devices, and also works with Apple Health
for consolidated viewing of health and
activity data. AgaMatrix has sold over 8
million blood glucose monitors and more
than 3bn test strips since its inception in
2001. WaveForm Technologies, a wholly
owned subsidiary of AgaMatrix Holdings
LLC, is developing technology for a
needle-free sensor continuous glucose
monitoring (CGM).
(Part 4)
Amazon's Choice health brand. blood glucose monitor by Agamatrix.