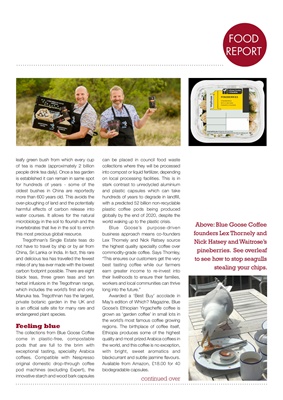 KITLIVING
continued over
Top left: Blue Goose Coffee
founders . Top right:
Waitrose's pineberries.
Above: Plastic-free bottles
from Choose Water.
leafy green bush from which every cup
of tea is made (approximately 2 billion
people drink tea daily). Once a tea garden
is established it can remain in same spot
for hundreds of years - some of the
oldest bushes in China are reportedly
more than 600 years old. This avoids the
over-ploughing of land and the potentially
harmful effects of carbon release into
water courses. It allows for the natural
microbiology in the soil to flourish and the
invertebrates that live in the soil to enrich
this most precious global resource.
Tregothnan's Single Estate teas do
not have to travel by ship or by air from
China, Sri Lanka or India. In fact, this rare
and delicious tea has travelled the fewest
miles of any tea ever made with the lowest
carbon footprint possible. There are eight
black teas, three green teas and ten
herbal infusions in the Tregothnan range,
which includes the world's first and only
Manuka tea. Tregothnan has the largest,
private botanic garden in the UK and
is an official safe site for many rare and
endangered plant species.
Feeling blue
The collections from Blue Goose Coffee
come in plastic-free, compostable
pods that are full to the brim with
exceptional tasting, speciality Arabica
coffees. Compatible with Nespresso
original domestic drop-through coffee
pod machines (excluding Expert), the
innovative starch and wood bark capsules
can be placed in council food waste
collections where they will be processed
FOOD
REPORT