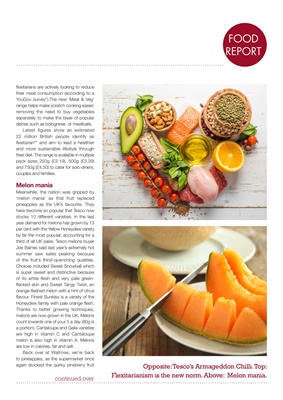 KITLIVING
FOOD
REPORT
flexitarians are actively looking to reduce
their meat consumption (according to a
YouGov survey*).The new 'Meat & Veg'
range helps make scratch cooking easier,
removing the need to buy vegetables
separately to make the base of popular
dishes such as bolognese or meatballs.
Latest figures show an estimated
22 million British people identify as
flexitarian** and aim to lead a healthier
and more sustainable lifestyle through
their diet. The range is available in multiple
pack sizes 250g (£2.19), 500g (£3.39)
and 750g (£4.50) to cater for solo-diners,
couples and families.
Melon mania
Meanwhile, the nation was gripped by
'melon mania' as that fruit replaced
pineapples as the UK's favourite. They
have become so popular that Tesco now
stocks 10 different varieties. In the last
year demand for melons has grown by 13
per cent with the Yellow Honeydew variety
by far the most popular, accounting for a
third of all UK sales. Tesco melons buyer
Joe Baines said last year's extremely hot
summer saw sales peaking because
of the fruit's thirst-quenching qualities.
Choices included Sweet Snowball which
is super sweet and distinctive because
of its white flesh and very pale greenflecked skin
and Sweet Tangy Twist, an
orange-fleshed melon with a hint of citrus
flavour. Finest Sunkiss is a variety of the
Honeydew family with pale orange flesh.
Thanks to better growing techniques,
melons are now grown in the UK. Melons
count towards one of your 5 a day (80g is
a portion). Cantaloupe and Galia varieties
are high in vitamin C and Cantaloupe
melon is also high in vitamin A. Melons
are low in calories, fat and salt.
Back over at Waitrose, we're back
to pineapples, as the supermarket once
again stocked the quirky pineberry fruit Opposite: Tesco's Armageddon Chilli. Top:
Flexitarianism is the new norm. Above: Melon mania.
continued over