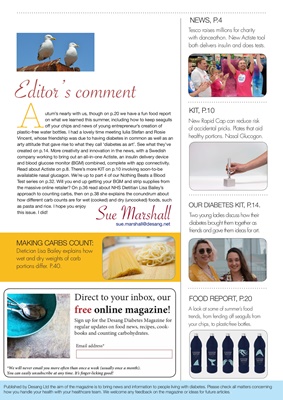 Published by Desang Ltd the aim of the magazine is to bring news and information to people living with diabetes. Please check all matters concerning
how you handle your health with your healthcare team. We welcome any feedback on the magazine or ideas for future articles..
Sue Marshall
Blood gEditor's comment
Two young ladies discuss how their
diabetes brought them together as
friends and gave them ideas for art.
OUR DIABETES KIT, P.16.
Dietician Lisa Bailey explains how
wet and dry weights of carb
portions differ. P.40.
MAKING CARBS COUNT:
NEWS, P.4
Tesco's raises millions for charity
with danceathon.
New Rapid Cap can reduce risk
of accidental pricks. Plates that aid
healthy portions. Nasal Glucogon.
KIT, P.14
A look at some of summer's food
trends, from fending off seagulls from
your chips, to plastic-free bottles.
FOOD REPORT, P.14