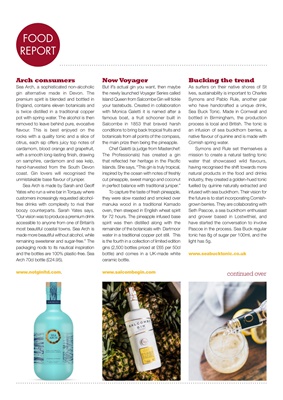 LIVINGLIVING
continued over
Arch consumers
Sea Arch, a sophisticated non-alcoholic
gin alternative made in Devon. The
premium spirit is blended and bottled in
England, contains eleven botanicals and
is twice distilled in a traditional copper
pot with spring water. The alcohol is then
removed to leave behind pure, evocative
flavour. This is best enjoyed on the
rocks with a quality tonic and a slice of
citrus, each sip offers juicy top notes of
cardamom, blood orange and grapefruit,
with a smooth long-lasting finish, drawing
on samphire, cardamom and sea kelp,
hand-harvested from the South Devon
coast. Gin lovers will recognised the
unmistakable base flavour of juniper.
Sea Arch is made by Sarah and Geoff
Yates who run a wine bar in Torquay where
customers increasingly requested alcoholfree
drinks with complexity to rival their
boozy counterparts. Sarah Yates says,
"Our vision was to produce a premium drink
accessible to anyone from one of Britain's
most beautiful coastal towns. Sea Arch is
made more beautiful without alcohol, while
remaining sweetener and sugar-free." The
packaging nods to its nautical inspiration
and the bottles are 100% plastic-free. Sea
Arch 70cl bottle (£24.95).
Now Voyager
But if's actual gin you want, then maybe
the newly launched Voyager Series called
Island Queen from Salcombe Gin will tickle
your tastebuds. Created in collaboration
with Monica Galetti it is named after a
famous boat, a fruit schooner built in
Salcombe in 1853 that braved harsh
conditions to bring back tropical fruits and
botanicals from all points of the compass,
the main prize then being the pineapple.
Chef Galetti (a judge from Masterchef:
The Professionals) has created a gin
that reflected her heritage in the Pacific
Islands. She says, "This gin is truly tropical,
inspired by the ocean with notes of freshly
cut pineapple, sweet mango and coconut
in perfect balance with traditional juniper."
To capture the taste of fresh pineapple,
they were slow roasted and smoked over
manuka wood in a traditional Kamado
oven, then steeped in English wheat spirit
for 72 hours. The pineapple infused base
spirit was then distilled along with the
remainder of the botanicals with Dartmoor
water in a traditional copper pot still. This
is the fourth in a collection of limited edition
gins (2,500 bottles priced at £65 per 50cl
bottle) and comes in a UK-made white
ceramic bottle.
Bucking the trend
As surfers on their native shores of St
Ives, sustainability is important to Charles
Symons and Pablo Rule, another pair
who have handcrafted a unique drink,
Sea Buck Tonic. Made in Cornwall and
bottled in Birmingham, the production
process is local and British. The tonic is
an infusion of sea buckthorn berries, a
native flavour of quinine and is made with
Cornish spring water.
Symons and Rule set themselves a
mission to create a natural tasting tonic
water that showcased wild flavours,
having recognised the shift towards more
natural products in the food and drinks
industry, they created a golden-hued tonic
fuelled by quinine naturally extracted and
infused with sea buckthorn. Their vision for
the future is to start incorporating Cornishgrown
berries. They are collaborating with
Seth Pascoe, a sea buckthorn enthusiast
and grower based in Lostwithiel, and
have started the conversation to involve
Pascoe in the process. Sea Buck regular
tonic has 8g of sugar per 100ml, and the
light has 5g.
FOOD
REPORT