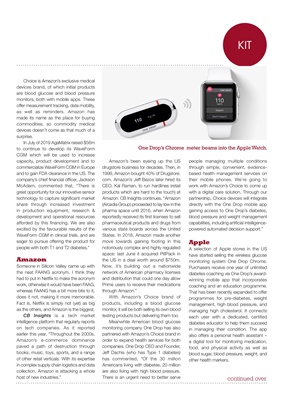 KITLIVING
continued over
Amazon's exclusive medical devices
brand, called Choice, of which initial
products are blood glucose monitors
and blood pressure monitors, both with
mobile apps, that offer measurement
tracking, data mobility, and reminders.
Amazon has made its name as the place
for buying commodities, so commodity
medical devices doesn't come as that
much of a surprise.
In July of 2019 AgaMatrix raised $56m
to continue to develop its WaveForm
CGM which will be used to increase
capacity, product development and to
commercialize WaveForm CGM in Europe
and to gain FDA clearance in the US. The
company's chief financial officer, Jackson
McAdam, commented that, "There is
great opportunity for our innovative sensor
technology to capture significant market
share through increased investment
in production equipment, research &
development and operational resources
afforded by this financing. We are also
excited by the favourable results of the
WaveForm CGM in clinical trials, and are
eager to pursue offering the product for
people with both T1 and T2 diabetes."
Amazon
Someone in Silicon Valley came up with
the neat FAANG acronym. I think they
had to put in Netflix to make the acronym
work, otherwise it would have been FAAG,
whereas FAANG has a bit more bite to it,
does it not, making it more memorable.
Fact is, Netflix is simply not (yet) as big
as the others, and Amazon is the biggest.
CB Insights is a tech market
intelligence platform that regularly reports
on tech companies. As it reported
earlier this year, "Throughout the 2000s,
Amazon's e-commerce dominance
paved a path of destruction through
books, music, toys, sports, and a range
of other retail verticals. With its expertise
in complex supply chain logistics and data
collection, Amazon is attacking a whole
host of new industries."
Amazon's been eyeing up the US
drugstore business for decades then, in
1999, Amazon bought 40% of Drugstore.
com. Bezos would later hire its CEO, Kal
Raman, to run hardlines (retail products
which are hard to the touch) at Amazon.
CB Insights continues, "Amazon (Arcadia
Group) proceeded to lay low in the
pharma space until 2016, when Amazon
reportedly received its first licenses to sell
pharmaceutical products and drugs from
various state boards across the United
States. In 2018, Amazon made another
move towards gaining footing in this
notoriously complex and highly regulated
space: last June it acquired PillPack in
the US in a deal worth around $750m.
Now, it's building out a nationwide
network of American pharmacy licenses
and distribution that could one day allow
Prime users to receive their medications
through Amazon."
With Amazon's Choice brand of
products, including a blood glucose
monitor, it will be both selling its own blood
testing products but delivering them too.
Meanwhile American blood glucose
monitoring company One Drop has also
partnered with Amazon's Choice brand in
order to expand health services for both
companies. One Drop CEO and Founder,
Jeff Dachis (who has Type 1 diabetes)
has commented, "Of the 30 million
Americans living with diabetes, 20 million
are also living with high blood pressure.
There is an urgent need to better serve
people managing multiple conditions
through simple, convenient, evidencebased health management services on
their mobile phonesWe're going to work
with Amazon's Choice to come up with a
digital care solution
Through our partnership, Choice
devices will integrate directly with the
One Drop mobile app gaining access
to One Drop's diabetes, blood pressure
and weight management capabilities,
including artificial intelligence-powered
automated decision support.
Apple
A selection of Apple stores in the US
have started selling the wireless glucose
monitoring system One Drop Chrome.
Purchasers receive one year of unlimited
diabetes coaching via One Drop's awardwinning mobile app that incorporates
coaching and an education programme.
That has been recently expanded to offer
programmes for pre-diabetes, weight
management, high blood pressure, and
managing high cholesterol. It connects
each user with a dedicated, certified
diabetes educator to help them succeed
in managing their condition. The app
also offers a personal health assistant -
a digital tool for monitoring medication,
food, and physical activity as well as
blood sugar, blood pressure, weight, and
other health markers.
One Drop's Chrome meter beams into the Apple Watch.