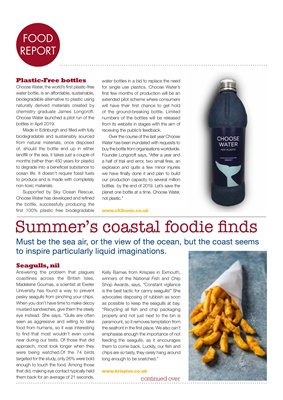 LIVINGLIVING
into compost or liquid fertilizer, depending
on local processing facilities. This is in
stark contrast to unreclycled aluminium
and plastic capsules which can take
hundreds of years to degrade in landfill,
with a predicted 52 billion non-recyclable
plastic coffee pods being produced
globally by the end of 2020, despite the
world waking up to the plastic crisis.
Blue Goose's purpose-driven
business approach means co-founders
Lex Thornely and Nick Ratsey source
the highest quality speciality coffee over
commodity-grade coffee. Says Thornley,
"This ensures our customers get the
very best tasting coffee while our farmers
earn greater income to re-invest into
their livelihoods to ensure their families,
workers and local communities can thrive
long into the future."
Awarded a 'Best Buy' accolade in
May's edition of Which? Magazine, Blue
Goose's Ethiopian Yirgacheffe coffee is
grown as 'garden coffee' in small lots in
the world's most famous coffee growing
regions. The birthplace of coffee itself,
Ethiopia produces some of the highest
quality and most prized Arabica coffees in
the world, and this coffee is no exception,
with bright, sweet aromatics and
blackcurrant and subtle jasmine flavours.
Available from Amazon, £18.00 for 40
biodegradable capsules.
Plastic-Free bottles
Choose Water, the world's first plastic-free
water bottle, is an affordable, sustainable,
biodegradable alternative to plastic using
naturally derived materials created by
chemistry graduate James Longcroft.
Choose Water launched a pilot run of the
bottles in April 2019.
Made in Edinburgh and filled with fully
biodegradable and sustainably sourced
from natural materials, once disposed
of, should the bottle end up in either
landfill or the sea, it takes just a couple of
months (rather than 450 years for plastic)
to degrade into a beneficial substance to
ocean life. It doesn't require fossil fuels
to produce and is made with completely
non-toxic materials.
Supported by Sky Ocean Rescue,
Choose Water has developed and refined
the bottle, successfully producing the
first 100% plastic free biodegradable
water bottles in a bid to replace the need
for single use plastics. Choose Water's
first few months of production will be an
extended pilot scheme where consumers
will have their first chance to get hold
of the ground-breaking bottle. Limited
numbers of the bottles will be released
from its website in stages with the aim of
receiving the public's feedback.
Over the course of the last year Choose
Water has been inundated with requests to
buy the bottle from organisations worldwide.
Founder Longcroft says, "After a year and
a half of trial and error, two small fires, an
explosion and quite a few minor injuries we
have finally done it! to several million bottles
by the end of 2019. Then just keep growing
and growing and growing. Let's save the
planet one bottle at a time. Choose Water,
not plastic."
continued over
Seagulls, nil
Answering the problem that plagues coastlines across the British
Isles, Madeleine Goumas, a scientist at Exeter University has
found a way to prevent pesky seagulls from pinching your chips.
When you don't have time to make decoy mustard sandwiches,
give them the steely eye instead. She says, "Gulls are often seen
as aggressive and willing to take food from humans, so it was
interesting to find that most wouldn't even come near during our
tests. Of those that did approach, most took longer when they
were being watched.Of the 74 birds targeted for the study, only
26% were bold enough to touch the food. Among those that did,
making eye contact typically held them back for an average of 21
seconds. Kelly Barnes from Krispies in Exmouth, winners of the
National Fish and Chip Shop Awards, says, "Constant vigilance
Summer's coastal foodie finds
Must be the sea air, or the view of the ocean, but the coast seems
to inspire particularly liquid imaginations.
FOOD
REPORT
is the best tactic for canny seagulls!"
She advocates disposing of rubbish
as soon as possible to keep the
seagulls at bay. "Recycling all fish
and chip packaging properly and
not just next to the bin is paramount,
so it removes temptation from
the seafront in the first place. We
also can't emphasise enough the importance of not feeding the
seagulls, as it encourages them to come back. Luckily, our fish
and chips are so tasty, they rarely hang around long enough to be
snatched." www.krispies.co.uk