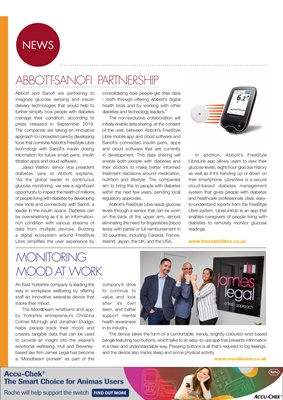 NEWS
ABBOTT-SANOFI PARTNERSHIP
Abbott and Sanofi are partnering to
integrate glucose sensing and insulin
delivery technologies that would help to
further simplify how people with diabetes
manage their condition, according to
press released in September 2019.
The companies are taking an innovative
approach to connected care by developing
tools that combine Abbott's FreeStyle Libre
technology with Sanofi's insulin dosing
information for future smart pens, insulin
titration apps and cloud software.
Jared Watkin, senior vice president
diabetes care at Abbott explains,
"As the global leader in continuous
glucose monitoring, we see a significant
opportunity to impact the health of millions
of people living with diabetes by developing
new tools and connectivity with Sanofi, a
leader in the insulin space. Diabetes can
be overwhelming as it is an informationrich condition with various streams
of
data from multiple devices. Building
a digital ecosystem around FreeStyle
Libre simplifies the user experience by
consolidating how people get their data
- both through offering Abbott's digital
health tools and by working with other
diabetes and technology leaders."
The non-exclusive collaboration will
initially enable data sharing, at the consent
of the user, between Abbott's FreeStyle
Libre mobile app and cloud software and
Sanofi's connected insulin pens, apps
and cloud software that are currently
in development. This data sharing will
enable both people with diabetes and
their doctors to make better informed
treatment decisions around medication,
nutrition and lifestyle. The companies
aim to bring this to people with diabetes
within the next few years, pending local
regulatory approvals.
Abbott's FreeStyle Libre reads glucose
levels through a sensor that can be worn
on the back of the upper arm, almost
eliminating the need for fingersticks (blood
tests) with partial or full reimbursement in
33 countries, including Canada, France,
Ireland, Japan, the UK, and the USA.
In addition, Abbott's FreeStyle
LibreLink app allows users to view their
glucose levels, eight-hour glucose history
as well as if it's trending up or down on
their smartphone. LibreView is a secure
cloud-based diabetes management
system that gives people with diabetes
and healthcare professionals clear, easyto-understand reports
from the FreeStyle
Libre system. LibreLinkUp is an app that
enables caregivers of people living with
diabetes to remotely monitor glucose
readings.
An East Yorkshire company is leading the
way in workplace wellbeing by offering
staff an innovative wearable device that
tracks their mood.
The Moodbeam wristband and app,
by Yorkshire entrepreneurs Christina
Colmer McHugh and Jonathan Elvidge,
helps people track their mood and
creates tangible data that can be used
to provide an insight into the wearer's
emotional wellbeing. Hull and Beverleybased law
firm James Legal has become
a 'Moodbeam pioneer' as part of the
MONITORING
MOOD AT WORKcompany's drive
to continue to
value and look
after its own
team, and better
support mental
health awareness
in its industry.
The device takes the form of a comfortable, trendy, brightly-coloured wrist-based
bangle featuring two buttons, which talks to an easy-to-use app that presents information
in a clear and understandable way. Pressing buttons is all that's required to log feelings,
and the device also tracks sleep and some physical activity.