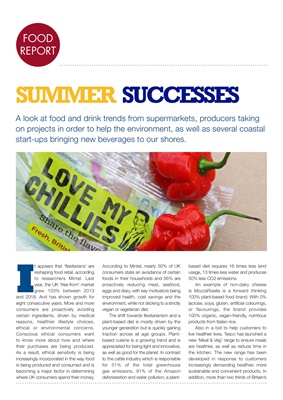 LIVINGLIVING
SUMMER SUCCESSES
A look at food and drink trends from supermarkets, producers taking
on projects in order to help the environment, as well as several coastal
start-ups bringing new beverages to our shores.
FOOD
REPORT
I
t appears that 'flexitarians' are
reshaping food retail, according
to researchers Mintel. Last
year, the UK 'free-from' market
grew 133% between 2013
and 2018. And has shown growth for
eight consecutive years. More and more
consumers are proactively avoiding
certain ingredients, driven by medical
reasons, healthier lifestyle choices,
ethical or environmental concerns.
Conscious ethical consumers want
to know more about how and where
their purchases are being produced.
As a result, ethical sensitivity is being
increasingly incorporated in the way food
is being produced and consumed and is
becoming a major factor in determining
where UK consumers spend their money.
According to Mintel, nearly 50% of UK
consumers state an avoidance of certain
foods in their households and 56% are
proactively reducing meat, seafood,
eggs and diary, with key motivators being
improved health, cost savings and the
environment, while not sticking to a strictly
vegan or vegetarian diet.
The shift towards flexitarianism and a
plant-based diet is mostly driven by the
younger generation but is quickly gaining
traction across all age groups. Plantbased cuisine is a growing
trend and is
appreciated for being light and innovative,
as well as good for the planet. In contrast
to the cattle industry which is responsible
for 51% of the total greenhouse
gas emissions, 91% of the Amazon
deforestation and water pollution, a plantbased diet requires
16 times less land
usage, 13 times less water and produces
50% less CO2 emissions.
An example of non-dairy cheese
is MozzaRisella is a forward thinking
100% plant-based food brand. With 0%
lactose, soya, gluten, artificial colourings,
or flavourings, the brand provides
100% organic, vegan-friendly, nutritious
products from Italian rice.
Also in a bid to help customers to
live healthier lives, Tesco has launched a
new 'Meat & Veg' range to ensure meals
are healthier, as well as reduce time in
the kitchen. The new range has been
developed in response to customers
increasingly demanding healthier, more
sustainable and convenient products. In
addition, more than two thirds of Britain's