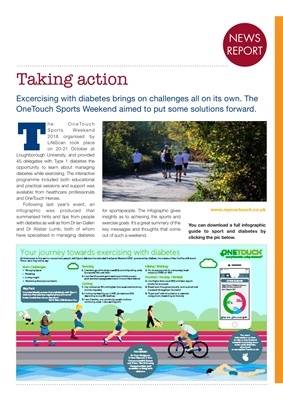 NEWS
The focus on the drive to tackle obesity should be more about
health, not weight, according to Dr Oli Williams.
Taking action
The OneTouch
Sports Weekend
2018 organised by
LifeScan took place
on 20-21 October at
Loughborough University, and provided
45 delegates with Type 1 diabetes the
opportunity to learn about managing
diabetes while exercising. The interactive
programme included both educational
and practical sessions and support was
available from healthcare professionals
and OneTouch Heroes.
Following last year's event, an
infographic was produced that
summarised hints and tips from people
with diabetes as well as from Dr Ian Gallen
and Dr Alistair Lumb, both of whom
have specialised in managing diabetes
NEWS
REPORT
for sportspeople. The infographic gives
insights as to achieving the sports and
exercise goals. It's a great summary of the
key messages and thoughts that come
out of such a weekend.
You can download a full
infographic guide to sport and
diabetes by clicking the pic below.
Your journey towards exercising with diabetes
DID
YOU KNOW?
Sir Steve Redgrave,
5 time Olympic, 3 time
Commonwealth Games
and 9 time World Rowing
Championships gold
medallist, is living with
diabetes
Running
1. I maintain good blood glucose (BG) control by taking carbs
(Lucozade) little and often
2. I use the 10 second sprint technique to help prevent
post-exercise hypoglycaemia (see in more detail below)
Cycling
1. I try to keep my BG a bit higher than usual and check my
monitor regularly
2. I reduce my basal by up to 90%, (sometimes 100)
depending on my BG readings
3. I use 2 bottles, one containing squash and one
containing water. I also eat flapjacks
Hiking / Walking
1. I'm on a pump and do a temporary basal
reduction (TBR) of -30%
Football / Hockey / Netball
1. I run higher than usual (BG) and have regular
breaks for Lucozade
2. Blood tests throughout (usually each quarter) and
Lucozade throughout the match
3. "Sugar surf" with micro bolus to maintain
energy level, depending on intensity
Main Challenges
• Managing hypos
• Refueling
• Losing weight
• Monitoring blood glucose levels
10-sec Maximal Sprint Technique
This technique can be used to maintain blood glucose,
while reducing carbohydrate intake. It helps counter the
rapid fall in glycaemia associated with medium intensity
Sports Nutrition
All information in this section comes from people with Type 1 diabetes that attended the Sports Weekend 2017, sponsored by LifeScan, the makers of the OneTouch® brand.
This is what they had to say:
For more
information on how
to take a step forward
towards becoming more
active with diabetes,
check out
All information from this section has been obtained from healthcare professionals speaking at the Sports Weekend 2017, sponsored by LifeScan, the makers of the OneTouch® brand.
This Infographic Poster was developed in association with Dr. Ian Gallen, Dr. Alistair Lumb, and James Moran.
Yes-less Yes-more No
OTSW SURVEY
Does Type 1 Diabetes have an
effect on the amount of
exercise you do?
47% 15%
38%
Glucose trends
Please note that these are just guidelines, and people's responses will vary
Exercise A leisurely
walk
Jogging,
swimming
Running, football,
netball
Sprints, intense
squash match
Key Fact
It is scientifically proven that individuals with Type 1
diabetes that exercise regularly have all-round
better health than those that don't
Ref: B. Bohn, 2015, Diabetes Care
Growth
ar & Tear