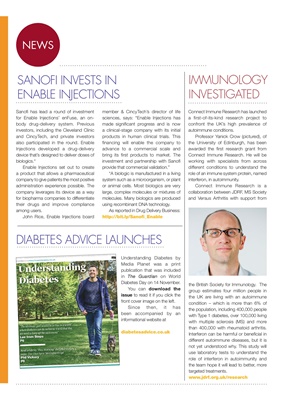 NEWS
Sanofi has lead a round of investment
for Enable Injections' enFuse, an onbody drug-delivery system. Previous
investors, including the Cleveland Clinic
and CincyTech, and private investors
also participated in the round. Enable
Injections developed a drug-delivery
device that's designed to deliver doses of
biologics.*
Enable Injections set out to create
a product that allows a pharmaceutical
company to give patients the most positive
administration experience possible. The
company leverages its device as a way
for biopharma companies to differentiate
their drugs and improve compliance
among users.
John Rice, Enable Injections board
member & CincyTech's director of life
sciences, says: "Enable Injections has
made significant progress and is now
a clinical-stage company with its initial
products in human clinical trials. This
financing will enable the company to
advance to a commercial scale and
bring its first products to market. The
investment and partnership with Sanofi
provide that commercial validation."
*A biologic is manufactured in a living
system such as a microorganism, or plant
or animal cells. Most biologics are very
large, complex molecules or mixtures of
molecules. Many biologics are produced
using recombinant DNA technology.
As reported in Drug Delivery Business:
SANOFI INVESTS IN
ENABLE INJECTIONS
Connect Immune Research has launched
a first-of-its-kind research project to
confront the UK's high prevalence of
autoimmune conditions.
Professor Yanick Crow (pictured), of
the University of Edinburgh, has been
awarded the first research grant from
Connect Immune Research. He will be
working with specialists from across
different conditions to understand the
role of an immune system protein, named
interferon, in autoimmunity.
Connect Immune Research is a
collaboration between JDRF, MS Society
and Versus Arthritis with support from
IMMUNOLOGY
INVESTIGATED
the British Society for Immunology. The
group estimates four million people in
the UK are living with an autoimmune
condition - which is more than 6% of
the population, including 400,000 people
with Type 1 diabetes, over 100,000 living
with multiple sclerosis (MS) and more
than 400,000 with rheumatoid arthritis.
Interferon can be harmful or beneficial in
different autoimmune diseases, but it is
not yet understood why. This study will
use laboratory tests to understand the
role of interferon in autoimmunity and
the team hope it will lead to better, more
targeted treatments.
Understanding Diabetes by
Media Planet was a print
publication that was included
in The Guardian on World
Diabetes Day on 14 November.
You can download the
issue to read it if you click the
front cover image on the left.
Since then, it has
been accompanied by an
informational website at
diabetesadvice.co.uk
AN INDEPENDENT SUPPLEMENT DISTRIBUTED IN THE GUARDIAN ON BEHALF OF MEDIAPLANET WHO TAKE SOLE RESPONSIBILITY FOR ITS CONTENTS
NOVEMBER 2018 HEALTHAWARENESS.CO.UK
Understanding
Diabetes
Read celebrity 'This Morning' chef Phil Vickery's
sugar-free Five Spice Meringue recipe
Phil Vickery
P6
CREDIT: JAMIE GARBUTTDIABETES UK
"The ultimate goal would be to live in a world
where diabetes can do no harm. Until that day,
we need to keep up the awareness"
Lee from Steps
P8
DIABETES ADVICE LAUNCHES