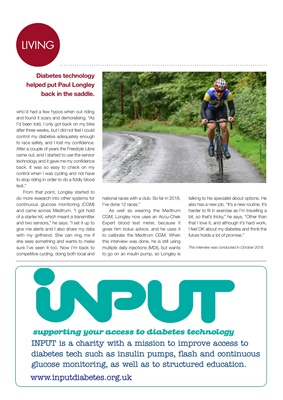 LIVINGLIVING
who'd had a few hypos when out riding
and found it scary and demoralising. "As
I'd been told, I only got back on my bike
after three weeks, but I did not feel I could
control my diabetes adequately enough
to race safely, and I lost my confidence.
After a couple of years the Freestyle Libre
came out, and I started to use the sensor
technology and it gave me my confidence
back. It was so easy to check on my
control when I was cycling and not have
to stop riding in order to do a fiddly blood
test."
From that point, Longley started to
do more research into other systems for
continuous glucose monitoring (CGM)
and came across Medtrum. "I got hold
of a starter kit, which meant a transmitter
and two sensors," he says. "I set it up to
give me alerts and I also share my data
with my girlfriend. She can ring me if
she sees something and wants to make
sure I've seen it too. Now I'm back to
competitive cycling, doing both local and
national races with a club. So far in 2018,
I've done 12 races."
As well as wearing the Medtrum
CGM, Longley now uses an Accu-Chek
Expert blood test meter, because it
gives him bolus advice, and he uses it
to calibrate the Medtrum CGM. When
this interview was done, he is still using
multiple daily injections (MDI), but wants
to go on an insulin pump, so Longley is
Diabetes technology
helped put Paul Longley
back in the saddle.
talking to his specialist about options. He
also has a new job. "It's a new routine, it's
harder to fit in exercise as I'm travelling a
bit, so that's tricky," he says, "Other than
that I love it, and although it's hard work,
I feel OK about my diabetes and think the
future holds a lot of promise."
This interview was conducted in October 2018.
INPUT is a charity with a mission to improve access to
diabetes tech such as insulin pumps, flash and continuous
glucose monitoring, as well as to structured education.