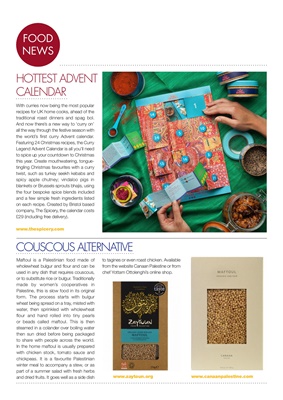 LIVINGLIVING
HOTTEST ADVENT
CALENDAR
FOOD
NEWS
Maftoul is a Palestinian food made of
wholewheat bulgur and flour and can be
used in any dish that requires couscous,
or to substitute rice or bulgur. Traditionally
made by women's cooperatives in
Palestine, this is slow food in its original
form. The process starts with bulgur
wheat being spread on a tray, misted with
water, then sprinkled with wholewheat
flour and hand rolled into tiny pearls
or beads called maftoul. This is then
steamed in a colander over boiling water
then sun dried before being packaged
to share with people across the world.
In the home maftoul is usually prepared
with chicken stock, tomato sauce and
chickpeas. It is a favourite Palestinian
winter meal to accompany a stew, or as
part of a summer salad with fresh herbs
and dried fruits. It goes well as a side dish
COUSCOUS ALTERNATIVE
With curries now being the most popular
recipes for UK home cooks, ahead of the
traditional roast dinners and spag bol.
And now there's a new way to 'curry on'
all the way through the festive season with
the world's first curry Advent calendar.
Featuring 24 Christmas recipes, the Curry
Legend Advent Calendar is all you'll need
to spice up your countdown to Christmas
this year. Create mouthwatering, tonguetingling Christmas favourites with a curry
twist, such as turkey seekh kebabs and
spicy apple chutney; vindaloo pigs in
blankets or Brussels sprouts bhajis, using
the four bespoke spice blends included
and a few simple fresh ingredients listed
on each recipe. Created by Bristol based
company, The Spicery, the calendar costs
£29 (including free delivery).
to tagines or even roast chicken. Available
from the website Canaan Palestine or from
chef Yottam Ottolenghi's online shop.