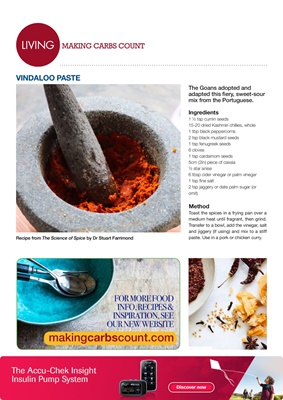 LIVINGLIVING
WEST INDIAN VINDALOO PASTE
The Goans adopted and
adapted this fiery, sweet-sour
mix from the Portuguese.
Ingredients
1 ½ tsp cumin seeds
15-20 dried Kashmiri chillies, whole
1 tbp black peppercorns
2 tsp black mustard seeds
1 tsp fenugreek seeds
6 cloves
1 tsp cardamom seeds
5cm (2in) piece of cassia
½ star anise
6 tbsp cider vinegar or palm vinegar
1 tsp fine salt
2 tsp jaggery or date palm sugar (or
omit)
MAKING CARBS COUNT
Method
Toast the spices in a frying pan over a
medium heat until fragrant, then grind.
Transfer to a bowl, add the vinegar, salt
and jiggery (if using) and mix to a stiff
paste. Use in a pork or chicken curry.
FOR MORE FOOD
INFO, RECIPES &
INSPIRATION, SEE
OUR NEW WEBSITE
makingcarbscount.com
Recipe from The Science of Spice by Dr Stuart Farrimond