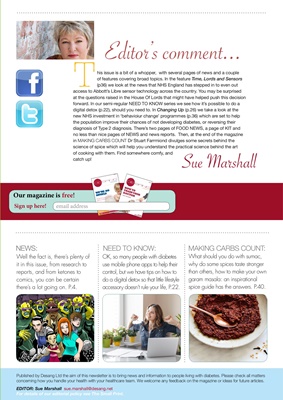 Published by Desang Ltd the aim of this newsletter is to bring news and information to people living with diabetes. Please check all matters
concerning how you handle your health with your healthcare team. We welcome any feedback on the magazine or ideas for future articles.
EDITOR: Sue Marshall sue.marshall@desang.net
For details of our editorial policy see The Small Print.
KeeP.28.
Sue Marshall
What to do with an unloved jar
of sumac, why some spices taste
stronger than others, make your
own garam masala an inspirational spice guide has all the answers.
There is s
T
he Science of Spice will help you understand the practical science
behind the art of cooking with spices.
Editor's comment...
ISSUE 30
MAGAZINE
DESANG
PLUS • New Products • Groovy giveaways • News (for T1 and T2)
WE'RE NO
ANGELS
But business as usual is best for
diabetics at Christmas
MAKING
CARBS COUNT:
CHESTNUTS ROASTING
ON OPEN FIRES
Our magazine is free!
Sign up here! email address
NEED TO KNOW:
Jen. P.20.
NEWS: MAKING CARBS COUNT