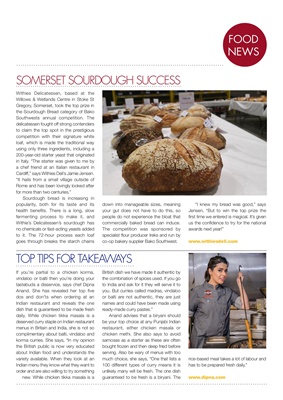 KIT
FOOD
NEWS
SOMERSET SOURDOUGH SUCCESS
Withies Delicatessen, based at the
Willows & Wetlands Centre in Stoke St
Gregory, Somerset, took the top prize in
the Sourdough Bread category of Bako
Southwests annual competition. The
delicatessen fought off strong contenders
to claim the top spot in the prestigious
competition with their signature white
loaf, which is made the traditional way
using only three ingredients, including a
200-year-old starter yeast that originated
in Italy. "The starter was given to me by
a chef friend at an Italian restaurant in
Cardiff," says Withies Deli's Jamie Jensen.
"It hails from a small village outside of
Rome and has been lovingly looked after
for more than two centuries."
Sourdough bread is increasing in
popularity, both for its taste and its
health benefits. There is a long, slow
fermenting process to make it, and
Withie's Delicatessen's sourdough has
no chemicals or fast-acting yeasts added
to it. The 72-hour process each loaf
goes through breaks the starch chains
down into manageable sizes, meaning
your gut does not have to do this, so
people do not experience the bloat that
commercially baked bread can induce.
The competition was sponsored by
specialist flour producer Ireks and run by
co-op bakery supplier Bako Southwest.
"I knew my bread was good," says
Jensen, "But to win the top prize the
first time we entered is magical. It's given
us the confidence to try for the national
awards next year!"
If you're partial to a chicken korma,
vindaloo or balti then you're doing your
tastebuds a disservice, says chef Dipna
Anand. She has revealed her top five
dos and don'ts when ordering at an
Indian restaurant and reveals the one
dish that is guaranteed to be made fresh
daily. While chicken tikka masala is a
deserved curry staple on Indian restaurant
menus in Britain and India, she is not so
complimentary about balti, vindaloo and
korma curries. She says, "In my opinion
the British public is now very educated
about Indian food and understands the
variety available. When they look at an
Indian menu they know what they want to
order and are also willing to try something
new. While chicken tikka masala is a
British dish we have made it authentic by
the combination of spices used. If you go
to India and ask for it they will serve it to
you. But curries called madras, vindaloo
or balti are not authentic, they are just
names and could have been made using
ready-made curry pastes."
Anand advises that a biryani should
be your top choice at any Punjabi Indian
restaurant, either chicken masala or
chicken methi. She also says to avoid
samosas as a starter as these are often
bought frozen and then deep fried before
serving. Also be wary of menus with too
much choice, she says, "One that lists a
100 different types of curry means it is
unlikely many will be fresh. The one dish
guaranteed to be fresh is a biryani. The
rice-based meal takes a lot of labour and
has to be prepared fresh daily."
TOP TIPS FOR TAKEAWAYS