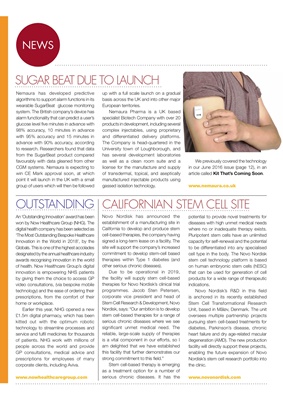 NEWS
SUGAR BEAT DUE TO LAUNCH
OUTSTANDING CALIFORNIAN STEM CELL SITE
Nemaura has developed predictive
algorithms to support alarm functions in its
wearable SugarBeat glucose monitoring
system. The British company's device has
alarm functionality that can predict a user's
glucose level five minutes in advance with
98% accuracy, 10 minutes in advance
with 95% accuracy and 15 minutes in
advance with 90% accuracy, according
to research. Researchers found that data
from the SugarBeat product compared
favourably with data gleaned from other
CGM systems. Nemaura is expecting to
win CE Mark approval soon, at which
point it will launch in the UK with a small
group of users which will then be followed
up with a full scale launch on a gradual
basis across the UK and into other major
European territories.
Nemaura Pharma is a UK based
specialist Biotech Company with over 20
products in development, including several
complex injectables, using proprietary
and differentiated delivery platforms.
The Company is head-quartered in the
University town of Loughborough, and
has several development laboratories
as well as a clean room suite and a
license for the manufacture and supply
of transdermal, topical, and aseptically
manufactured injectable products using
gassed isolation technology.
An 'Outstanding Innovation' award has been
won by Now Healthcare Group (NHG). The
digital health company has been selected as
'The Most Outstanding Bespoke Healthcare
Innovation in the World in 2018', by the
Globals. This is one of the highest accolades
designated by the annual healthcare
industry awards recognising innovation
in the world of health. Now Healthcare
Group are pioneers at the forefront of
the health care revolution and its digital
innovation is empowering NHS patients'
by giving them the choice to access GP
video consultations, (via bespoke mobile
technology) and the ease of ordering their
prescriptions, from the comfort of their
home or workplace. Earlier this year, NHG
opened a new £1.5m digital Pharmacy,
which has been kitted out with the
optimum robotic technology to streamline
processes and service and fulfil medicines
for thousands of patients. NHG work with
millions of people across the world and
provide GP consultations, medical advice
and prescriptions for employees of many
corporate clients, including Aviva.
Novo Nordisk has announced the
establishment of a manufacturing site in
California to develop and produce stem
cell-based therapies, the company having
signed a long-term lease on a facility. The
site will support the company's increased
commitment to develop stem-cell based
therapies within Type 1 diabetes (and
other serious chronic diseases).
Due to be operational in 2019, the
facility will supply of stem cell-based
therapies for Novo Nordisk's clinical trial
programmes. Jacob Sten Petersen,
corporate vice president and head of
Stem Cell Research & Development
(R&D), Novo Nordisk, says: "Our ambition
is to develop stem cell-based therapies
for a range of serious chronic diseases
where we see significant unmet medical
need. The reliable, large-scale supply
of therapies is a vital component in
our efforts, so I am delighted that we
have established this facility that further
demonstrates our strong commitment to
this field."
Stem cell-based therapy is emerging
as a treatment option for a number
We previously covered the technology
in our June 2016 issue (page 12), in an
article called Kit That's Coming Soon.
of serious chronic diseases. It has the
potential to provide novel treatments for
diseases with high unmet medical needs
where no or inadequate therapy exists.
Pluripotent stem cells have an unlimited
capacity for self-renewal and the potential
to be differentiated into any specialised
cell type in the body. The Novo Nordisk
stem cell technology platform is based
on human embryonic stem cells (hESC)
that can be used for generation of cell
products for a wide range of therapeutic
indications.
Novo Nordisk's R&D in this field
is anchored in its recently established
Stem Cell Transformational Research
Unit, based in Måløv, Denmark. The unit
oversees multiple partnership projects
pursuing stem cell-based treatments for
diabetes, Parkinson's disease, chronic
heart failure and dry age-related macular
degeneration (AMD). The new production
facility will directly support these projects,
enabling the future expansion of Novo
Nordisk's stem cell research portfolio into
the clinic.