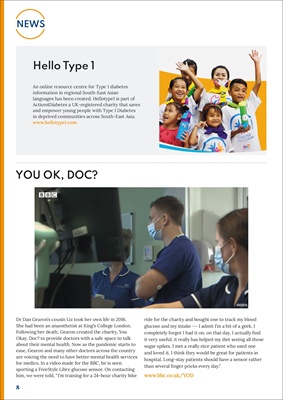 8
NEWS
Hello Type 1
YOU OK, DOC?
An online resource centre for Type 1 diabetes
information in regional South-East Asian
languages has been created. Hellotype1 is part of
Action4Diabetes a UK-registered charity that saves
and empower young people with Type 1 Diabetes
in deprived communities across South-East Asia.
Dr Dan Gearon's cousin Liz took her own life in 2016.
She had been an anaesthetist at King's College London.
Following her death, Gearon created the charity, You
Okay, Doc? to provide doctors with a safe space to talk
about their mental health. Now as the pandemic starts to
ease, Gearon and many other doctors across the country
are voicing the need to have better mental health services
for medics. In a video made for the BBC, he is seen
sporting a FreeStyle Libre glucose sensor. On contacting
him, we were told, "I'm training for a 24-hour charity bike
ride for the charity and bought one to track my blood
glucose and my intake -¬ I admit I'm a bit of a geek. I
completely forgot I had it on, on that day. I actually find
it very useful; it really has helped my diet seeing all those
sugar spikes. I met a really nice patient who used one
and loved it. I think they would be great for patients in
hospital. Long-stay patients should have a sensor rather
than several finger pricks every day."