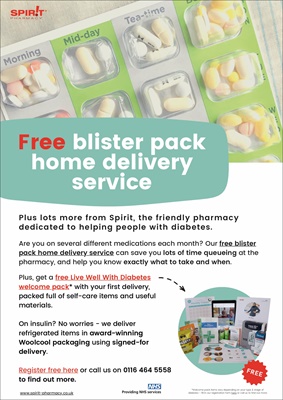 Free blister pack
home delivery
service
Plus, get a free Live Well With Diabetes
welcome pack* with your first delivery,
packed full of self-care items and useful
materials.
On insulin? No worries - we deliver
refrigerated items in award-winning
Woolcool packaging using signed-for
delivery.
Register free here or call us on 0116 464 5558
to find out more.
Plus lots more from Spirit, the friendly pharmacy
dedicated to helping people with diabetes.
*Welcome pack Items vary depending on your type & stage of
diabetes - fill in our registration form here or call us to find out more
Are you on several different medications each month? Our free blister
pack home delivery service can save you lots of time queueing at the
pharmacy, and help you know exactly what to take and when.