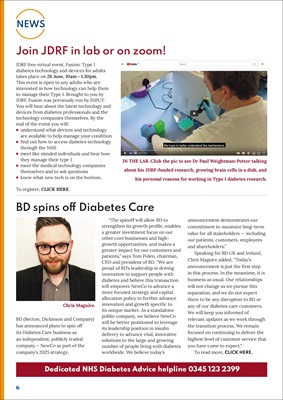 6
NEWS
Join JDRF in lab or on zoom!
BD spins off Diabetes Care IN THE LAB with Dr Paul Weightman-Potter talks
about his JDRF-funded research, growing brain cells in
a dish and his personal reasons for working in Type 1
diabetes research.
Chris Maguire.
BD (Becton, Dickinson and Company)
has announced plans to spin off
its Diabetes Care business as
an independent, publicly traded
company - NewCo as part of the
company's 2025 strategy.
"The spinoff will allow BD to
strengthen its growth profile, enables
a greater investment focus on our
other core businesses and highgrowth
opportunities, and makes a
greater impact for our customers and
patients," says Tom Polen, chairman,
CEO and president of BD. "We are
proud of BD's leadership in driving
innovation to support people with
diabetes and believe this transaction
will empower NewCo to advance a
more focused strategy and capital
allocation policy to further advance
innovation and growth specific to
its unique market. As a standalone
public company, we believe NewCo
will be better positioned to leverage
its leadership position in insulin
delivery to advance vital, innovative
solutions to the large and growing
number of people living with diabetes
worldwide. We believe today's
announcement demonstrates our
commitment to maximize long-term
value for all stakeholders - including
our patients, customers, employees
and shareholders."
Speaking for BD UK and Ireland,
Chris Maguire added, "Today's
announcement is just the first step
in this process. In the meantime, it is
business as usual. Our relationships
will not change as we pursue this
separation, and we do not expect
there to be any disruption to BD or
any of our diabetes care customers.
We will keep you informed of
relevant updates as we work through
the transition process. We remain
focused on continuing to deliver the
highest level of customer service that
you have come to expect."
To read more, CLICK HERE.
Dedicated NHS Diabetes Advice helpline 0345 123 2399
JDRF free virtual event, Fusion: Type 1
diabetes technology and devices for adults
takes place on 26 June, 10am - 1.30pm.
This event is open to any adults who are
interested in how technology can help them
to manage their Type 1. Brought to you by
JDRF, Fusion was previously run by INPUT.
You will hear about the latest technology and
devices from diabetes professionals and the
technology companies themselves. By the
end of the event you will:
understand what devices and technology
are available to help manage your condition
find out how to access diabetes technology
through the NHS
meet like minded individuals and hear how
they manage their type 1
meet the medical technology companies
themselves and have an opportunity to ask
questions
know what new tech is on the horizon.