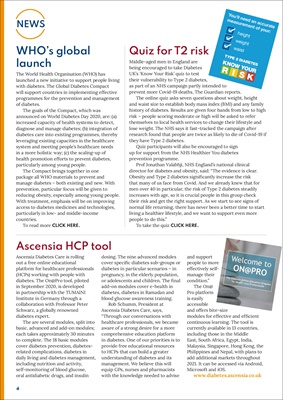 4
NEWS
WHO's global
launch
The World Health Organisation (WHO) has
launched a new initiative to support people living
with diabetes. The Global Diabetes Compact
will support countries in implementing effective
programmes for the prevention and management
of diabetes.
The goals of the Compact, which was
announced on World Diabetes Day 2020, are: (a)
increased capacity of health systems to detect,
diagnose and manage diabetes; (b) integration of
diabetes care into existing programmes, thereby
leveraging existing capacities in the healthcare
system and meeting people's healthcare needs
in a more holistic way; (c) the scaling-up of
health promotion efforts to prevent diabetes,
particularly among young people.
The Compact brings together in one
package all WHO materials to prevent and
manage diabetes - both existing and new. With
prevention, particular focus will be given to
reducing obesity, especially among young people.
With treatment, emphasis will be on improving
access to diabetes medicines and technologies,
particularly in low- and middle-income
countries.
To read more CLICK HERE.
Quiz for T2 risk
Middle-aged men in England are
being encouraged to take Diabetes
UK's 'Know Your Risk' quiz to test
their vulnerability to Type 2 diabetes,
as part of an NHS campaign partly intended to
prevent more Covid-19 deaths, The Guardian reports.
The online quiz asks seven questions about weight, height
and waist size to establish body mass index (BMI) and any family
history of diabetes. Results are given four bands from low to high
risk - people scoring moderate or high will be asked to refer
themselves to local health services to change their lifestyle and
lose weight. The NHS says it fast-tracked the campaign after
research found that people are twice as likely to die of Covid-19 if
they have Type 2 diabetes.
Quiz participants will also be encouraged to sign
up for support from the NHS Healthier You diabetes
prevention programme.
Prof Jonathan Valabhji, NHS England's national clinical
director for diabetes and obesity, said: "The evidence is clear.
Obesity and Type 2 diabetes significantly increase the risk
that many of us face from Covid. And we already knew that for
men over 40 in particular, the risk of Type 2 diabetes steadily
increases with age, so it is crucial people in this group check
their risk and get the right support. As we start to see signs of
normal life returning, there has never been a better time to start
living a healthier lifestyle, and we want to support even more
people to do this."
To take the quiz CLICK HERE.
Ascensia HCP tool
Ascensia Diabetes Care is rolling
out a free online educational
platform for healthcare professionals
(HCPs) working with people with
diabetes. The On@Pro tool, piloted
in September 2020, is developed
in partnership with the TUMAINI
Institute in Germany through a
collaboration with Professor Peter
Schwarz, a globally renowned
diabetes expert.
The are several modules, split into
basic, advanced and add-on modules;
each takes approximately 30 minutes
to complete. The 18 basic modules
cover diabetes prevention, diabetesrelated
complications, diabetes in
daily living and diabetes management,
including nutrition and activity,
self-monitoring of blood glucose,
oral antidiabetic drugs, and insulin
dosing. The nine advanced modules
cover specific diabetes sub-groups or
diabetes in particular scenarios - in
pregnancy, in the elderly population,
or adolescents and children. The final
add-on modules cover e-health in
diabetes, diabetes in Ramadan and
blood glucose awareness training.
Rob Schumm, President at
Ascensia Diabetes Care, says,
"Through our conversations with
healthcare professionals, we became
aware of a strong desire for a more
comprehensive education platform
in diabetes. One of our priorities is to
provide free educational resources
to HCPs that can build a greater
understanding of diabetes and its
management. We believe this will
equip GPs, nurses and pharmacists
with the knowledge needed to advise
and support
people to more
effectively selfmanage
their
condition."
The On@
Pro platform
is easily
accessible
and offers bite-size
modules for effective and efficient
continuous learning. The tool is
currently available in 13 countries,
including those in the Middle
East, South Africa, Egypt, India,
Malaysia, Singapore, Hong Kong, the
Philippines and Nepal, with plans to
add additional markets throughout
2021. It can be accessed via Android,
Microsoft and iOS.