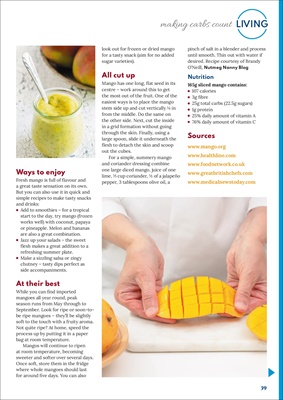 39
LIVING
making carbs count
Ways to enjoy
Fresh mango is full of flavour and
a great taste sensation on its own.
But you can also use it in quick and
simple recipes to make tasty snacks
and drinks:
Add to smoothies - for a tropical
start to the day, try mango (frozen
works well) with coconut, papaya
or pineapple. Melon and bananas
are also a great combination.
Jazz up your salads - the sweet
flesh makes a great addition to a
refreshing summer plate.
Make a sizzling salsa or zingy
chutney - tasty dips perfect as
side accompaniments.
At their best
While you can find imported
mangoes all year round, peak
season runs from May through to
September. Look for ripe or soon-tobe ripe mangoes
- they'll be slightly
soft to the touch with a fruity aroma.
Not quite ripe? At home, speed the
process up by putting it in a paper
bag at room temperature.
Mangos will continue to ripen
at room temperature, becoming
sweeter and softer over several days.
Once soft, store them in the fridge
where whole mangoes should last
for around five days. You can also
look out for frozen or dried mango
for a tasty snack (aim for no added
sugar varieties).
All cut up
Mango has one long, flat seed in its
centre - work around this to get
the most out of the fruit. One of the
easiest ways is to place the mango
stem side up and cut vertically ¼ in
from the middle. Do the same on
the other side. Next, cut the inside
in a grid formation without going
through the skin. Finally, using a
large spoon, slide it underneath the
flesh to detach the skin and scoop
out the cubes.
For a simple, summery mango
and coriander dressing combine
one large diced mango, juice of one
lime, cup coriander, ½ of a jalapeño
pepper, 3 tablespoons olive oil, a
pinch of salt in a blender and process
until smooth. Thin out with water if
desired. Recipe courtesy of Brandy
O'Neill, Nutmeg Nanny Blog
Nutrition
165g sliced mango contains:
107 calories
3g fibre
25g total carbs (22.5g sugars)
1g protein
25% daily amount of vitamin A
76% daily amount of vitamin C
Sources