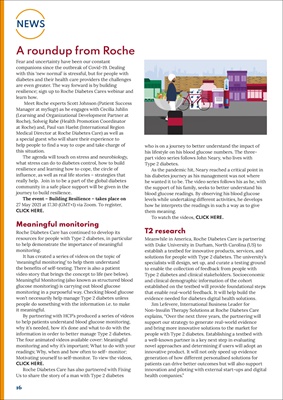 16
NEWS
A roundup from Roche
Fear and uncertainty have been our constant
companions since the outbreak of Covid-19. Dealing
with this 'new normal' is stressful, but for people with
diabetes and their health care providers the challenges
are even greater. The way forward is by building
resilience; sign up to Roche Diabetes Cares webinar and
learn how.
Meet Roche experts Scott Johnson (Patient Success
Manager at mySugr) as he engages with Cecilia Juhlin
(Learning and Organizational Development Partner at
Roche), Solveig Rabe (Health Promotion Coordinator
at Roche) and, Paul van Haelst (International Region
Medical Director at Roche Diabetes Care) as well as
a special guest who will share their experience to
help people to find a way to cope and take charge of
this situation.
The agenda will touch on stress and neurobiology,
what stress can do to diabetes control, how to build
resilience and learning how to cope, the circle of
influence, as well as real life stories - strategies that
really help. Join in to be a part of the global diabetes
community in a safe place support will be given in the
journey to build resilience.
The event - Building Resilience - takes place on
27 May 2021 at 17.30 (GMT+1) via Zoom. To register,
CLICK HERE.
Meaningful monitoring
Roche Diabetes Care has continued to develop its
resources for people with Type 2 diabetes, in particular
to help demonstrate the importance of meaningful
monitoring.
It has created a series of videos on the topic of
'meaningful monitoring' to help them understand
the benefits of self-testing. There is also a patient
video story that brings the concept to life (see below).
Meaningful Monitoring (also known as structured blood
glucose monitoring) is carrying out blood glucose
monitoring in a purposeful way. Checking blood glucose
won't necessarily help manage Type 2 diabetes unless
people do something with the information i.e. to make
it meaningful.
By partnering with HCP's produced a series of videos
to help patients understand blood glucose monitoring,
why it's needed, how it's done and what to do with the
information in order to better manage Type 2 diabetes.
The four animated videos available cover: Meaningful
monitoring and why it's important; What to do with your
readings; Why, when and how often to self- monitor;
Motivating yourself to self-monitor. To view the videos,
CLICK HERE.
Roche Diabetes Care has also partnered with Fixing
Us to share the story of a man with Type 2 diabetes
who is on a journey to better understand the impact of
his lifestyle on his blood glucose numbers. The threepart
video series follows John Neary, who lives with
Type 2 diabetes.
As the pandemic hit, Neary reached a critical point in
his diabetes journey as his management was not where
he wanted it to be. The video series follows his as he, with
the support of his family, seeks to better understand his
blood glucose readings. By observing his blood glucose
levels while undertaking different activities, he develops
how he interprets the readings in such a way as to give
them meaning.
To watch the videos, CLICK HERE.
T2 research
Meanwhile in America, Roche Diabetes Care is partnering
with Duke University in Durham, North Carolina (US) to
establish a testbed for innovative products, services, and
solutions for people with Type 2 diabetes. The university's
specialists will design, set up, and curate a testing ground
to enable the collection of feedback from people with
Type 2 diabetes and clinical stakeholders. Socioeconomic
and clinical demographic information of the cohort
established on the testbed will provide foundational steps
that enable real-world feedback. It will help build the
evidence needed for diabetes digital health solutions.
Jim Lefevere, International Business Leader for
Non-Insulin Therapy Solutions at Roche Diabetes Care
explains, "Over the next three years, the partnering will
support our strategy to generate real-world evidence
and bring more innovative solutions to the market for
people with Type 2 diabetes. Establishing a testbed with
a well-known partner is a key next step in evaluating
novel approaches and determining if users will adopt an
innovative product. It will not only speed up evidence
generation of how different personalised solutions for
patients can drive better outcomes but will also support
innovation and piloting with external start-ups and digital
health companies."