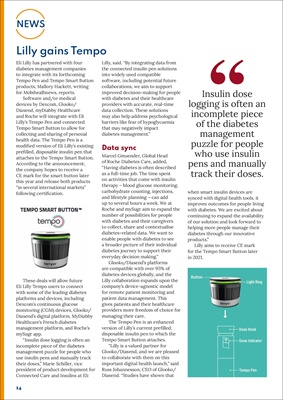 14
NEWS
Lilly gains Tempo
Insulin dose
logging is often an
incomplete piece
of the diabetes
management
puzzle for people
who use insulin
pens and manually
track their doses.
Eli Lilly has partnered with four
diabetes management companies
to integrate with its forthcoming
Tempo Pen and Tempo Smart Button
products, Mallory Hackett, writing
for Mobihealhnews, reports.
Software and/or medical
devices by Dexcom, Glooko/
Diasend, myDiabby Healthcare
and Roche will integrate with Eli
Lilly's Tempo Pen and connected
Tempo Smart Button to allow for
collecting and sharing of personal
health data. The Tempo Pen is a
modified version of Eli Lilly's existing
prefilled, disposable insulin pen that
attaches to the Tempo Smart Button.
According to the announcement,
the company hopes to receive a
CE mark for the smart button later
this year and release both products
"in several international markets"
following certification.
Lilly, said. "By integrating data from
the connected insulin pen solutions
into widely used compatible
software, including potential future
collaborations, we aim to support
improved decision-making for people
with diabetes and their healthcare
providers with accurate, real-time
data collection. These solutions
may also help address psychological
barriers like fear of hypoglycaemia
that may negatively impact
diabetes management."
Data sync
Marcel Gmuender, Global Head
of Roche Diabetes Care, added,
"Having diabetes is often described
as a full-time job. The time spent
on activities that come with insulin
therapy - blood glucose monitoring,
carbohydrate counting, injections,
and lifestyle planning - can add
up to several hours a week. We at
Roche and mySugr aim to expand the
number of possibilities for people
with diabetes and their caregivers
to collect, share and contextualise
diabetes-related data. We want to
enable people with diabetes to see
a broader picture of their individual
diabetes journey to support their
everyday decision making."
Glooko/Diasend's platforms
are compatible with over 95% of
diabetes devices globally, and the
Lilly collaboration expands upon the
company's device-agnostic model
for remote patient monitoring and
patient data management. This
gives patients and their healthcare
providers more freedom of choice for
managing their care.
The Tempo Pen is an enhanced
version of Lilly's current prefilled,
disposable insulin pen to which the
Tempo Smart Button attaches.
"Lilly is a valued partner for
Glooko/Diasend, and we are pleased
to collaborate with them on this
important digital health launch," said
Russ Johannesson, CEO of Glooko/
Diasend. "Studies have shown that
when smart insulin devices are
synced with digital health tools, it
improves outcomes for people living
with diabetes. We are excited about
continuing to expand the availability
of our solution and look forward to
helping more people manage their
diabetes through our innovative
products."
Lilly aims to receive CE mark
for the Tempo Smart Button later
in 2021.
These deals will allow future
Eli Lilly Tempo users to connect
with some of the leading diabetes
platforms and devices, including
Dexcom's continuous glucose
monitoring (CGM) devices, Glooko/
Diasend's digital platform, MyDiabby
Healthcare's French diabetes
management platform, and Roche's
mySugr app.
"Insulin dose logging is often an
incomplete piece of the diabetes
management puzzle for people who
use insulin pens and manually track
their doses," Marie Schiller, vice
president of product development for
Connected Care and Insulins at Eli