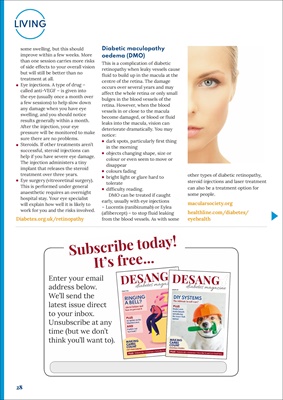 28
LIVING
some swelling, but this should
improve within a few weeks. More
than one session carries more risks
of side effects to your overall vision
but will still be better than no
treatment at all.
Eye injections. A type of drug -
called anti-VEGF - is given into
the eye (usually once a month over
a few sessions) to help slow down
any damage when you have eye
swelling, and you should notice
results generally within a month.
After the injection, your eye
pressure will be monitored to make
sure there are no problems.
Steroids. If other treatments aren't
successful, steroid injections can
help if you have severe eye damage.
The injection administers a tiny
implant that releases the steroid
treatment over three years.
Eye surgery (vitreoretinal surgery).
This is performed under general
anaesthetic requires an overnight
hospital stay. Your eye specialist
will explain how well it is likely to
work for you and the risks involved.
Diabetes.org.uk/retinopathy
Diabetic maculopathy
oedema (DMO)
This is a complication of diabetic
retinopathy when leaky vessels cause
fluid to build up in the macula at the
centre of the retina. The damage
occurs over several years and may
affect the whole retina or only small
bulges in the blood vessels of the
retina. However, when the blood
vessels in or close to the macula
become damaged, or blood or fluid
leaks into the macula, vision can
deteriorate dramatically. You may
notice:
dark spots, particularly first thing
in the morning
objects changing shape, size or
colour or even seem to move or
disappear
colours fading
bright light or glare hard to
tolerate
difficulty reading.
DMO can be treated if caught
early, usually with eye injections
- Lucentis (ranibizumab) or Eylea
(aflibercept) - to stop fluid leaking
from the blood vessels. As with some
other types of diabetic retinopathy,
steroid injections and laser treatment
can also be a treatment option for
some people.
macularsociety.org
healthline.com/diabetes/
eyehealth
y developed
nd, Vaxxas'
mm array
projections
. Invisible to
ith vaccine,
liver vaccine
the patches
iciently - a
he world are
inst COVIDto a
recent
micropatch
nza vaccine
e response
tramuscular
by HD-MAP
and higher
ed onto the
ble outside
have to be
swer to the
a traditional
developing
d countries.
HD-MAP in
ble at 40oC
different use
ector at this
nse glucose,
beyond the
micropatch
rpose in the
ications.
etes
me workout
t exercises.
xercise we'll
ds and then
ne is new to
, they might
st between
nute or two.
completed,
we then take a six-minute rest (which
again is adaptable) and once recovered,
we repeat the circuit all over again."
Stephenson-Grey took part in the
London 2012 Olympics Games torch
relay and still trains (prior to lockdown) at
the track and in the gym. The exercises
she does include standing squats, pressups, the
plank, lunges, the superman
pose (when the opposite arm and leg are
stretched out) and sit ups.
She says, "This type of fitness session
is inspired by the type of session I've often
done with my training group over the
years, particularly at the start of the winter
or summer training season, as it helps
build strength and fitness as a foundation
to move onto other things. It works the
arms, legs and core areas throughout
the session, which can be helpful when
training a lot, because no one area is
necessarily over-worked or strained."
The home workout videos have been
accepted by many in the community.
She adds, "I'm sharing what training
sessions work for me. Please remember
that you know your own fitness, health
and diabetes best. Seek medical advice
if you are concerned about undertaking
physical activity."
Home workouts with Mel Stephenson-Grey of Life Sport Diabetes.
www. lifesportdiabetes.co.uk
ISSUE 88
DIABETES MAGAZINE
DESANG
MAKING
CARBS
COUNT:
SWEET POTATO
PLUS • Diabetes kit • Giveaways • News (for T1 and T2) • Food News
Access to blood test strips
and meters: your choice
PLUS:
Screen Time
(part 2): meters
Subscribe today!
Enter your email
address below.
We'll send the
latest issue direct
to your inbox.
Unsubscribe at any
time (but we don't
think you'll want to).
It's free...
Subscribe today!
It's free...
Enter your email
address below.
We'll send the
latest issue direct
to your inbox.
Unsubscribe at any
time (but we don't
think you'll want to). ISSUE 120
MAKING
CARBS
COUNT
EAT YOUR GREENS!
PLUS Diabetes kit • Giveaways • News (for T1 and T2) • Food News
RINGING
A BELL?
Alarm fatigue and
how to prevent it
PLUS
An update on the
MiniMed 780G
AND
Explore our
'new look'!
ISSUE 119
MAKING
CARBS
COUNT
LUSCIOUS LYCHEES
PLUS Diabetes kit • Giveaways • News (for T1 and T2) • Food News
DIY SYSTEMS
The ultimate in self-care?
PLUS
Roche's new
meter launch:
introducing
the Accu-Chek
Instant