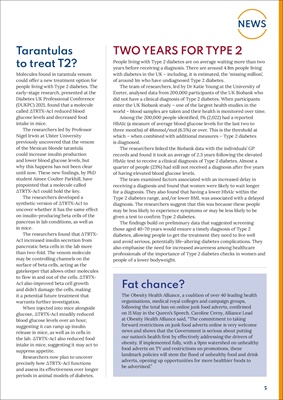 5
NEWS
Tarantulas
to treat T2?
Molecules found in tarantula venom
could offer a new treatment option for
people living with Type 2 diabetes. The
early-stage research, presented at the
Diabetes UK Professional Conference
(DUKPC) 2021, found that a molecule
called ΔTRTX-Ac1 reduced blood
glucose levels and decreased food
intake in mice.
The researchers led by Professor
Nigel Irwin at Ulster University
previously uncovered that the venom
of the Mexican blonde tarantula
could increase insulin production
and lower blood glucose levels, but
why this happens has not been clear
until now. These new findings, by PhD
student Aimee Coulter Parkhill, have
pinpointed that a molecule called
ΔTRTX-Ac1 could hold the key.
The researchers developed a
synthetic version of ΔTRTX-Ac1 to
uncover whether it has the same effect
on insulin-producing beta cells of the
pancreas in lab conditions, as well as
in mice.
The researchers found that ΔTRTXAc1 increased
insulin secretion from
pancreatic beta cells in the lab more
than two-fold. The venom molecule
may be controlling channels on the
surface of beta cells, acting as the
gatekeeper that allows other molecules
to flow in and out of the cells. ΔTRTXAc1 also improved
beta cell growth
and didn't damage the cells, making
it a potential future treatment that
warrants further investigation.
When injected into mice alongside
glucose, ΔTRTX-Ac1 steadily reduced
blood glucose levels over an hour,
suggesting it can ramp up insulin
release in mice, as well as in cells in
the lab. ΔTRTX-Ac1 also reduced food
intake in mice, suggesting it may act to
suppress appetite.
Researchers now plan to uncover
precisely how ΔTRTX-Ac1 functions
and assess its effectiveness over longer
periods in animal models of diabetes.
TWO YEARS FOR TYPE 2
People living with Type 2 diabetes are on average waiting more than two
years before receiving a diagnosis. There are around 4.8m people living
with diabetes in the UK - including, it is estimated, the 'missing million',
of around 1m who have undiagnosed Type 2 diabetes.
The team of researchers, led by Dr Katie Young at the University of
Exeter, analysed data from 200,000 participants of the UK Biobank who
did not have a clinical diagnosis of Type 2 diabetes. When participants
enter the UK Biobank study - one of the largest health studies in the
world - blood samples are taken and their health is monitored over time.
Among the 200,000 people identified, 1% (2,022) had a reported
HbA1c (a measure of average blood glucose levels for the last two to
three months) of 48mmol/mol (6.5%) or over. This is the threshold at
which - when combined with additional measures - Type 2 diabetes
is diagnosed.
The researchers linked the Biobank data with the individuals' GP
records and found it took an average of 2.3 years following the elevated
HbA1c test to receive a clinical diagnosis of Type 2 diabetes. Almost a
quarter of people (23%) had still not received a diagnosis after five years
of having elevated blood glucose levels.
The team examined factors associated with an increased delay in
receiving a diagnosis and found that women were likely to wait longer
for a diagnosis. They also found that having a lower HbA1c within the
Type 2 diabetes range, and/or lower BMI, was associated with a delayed
diagnosis. The researchers suggest that this was because these people
may be less likely to experience symptoms or may be less likely to be
given a test to confirm Type 2 diabetes.
The findings build on preliminary data that suggested screening
those aged 40-70 years would ensure a timely diagnosis of Type 2
diabetes, allowing people to get the treatment they need to live well
and avoid serious, potentially life-altering diabetes complications. They
also emphasise the need for increased awareness among healthcare
professionals of the importance of Type 2 diabetes checks in women and
people of a lower bodyweight.
Fat chance?
The Obesity Health Alliance, a coalition of over 40 leading health
organisations, medical royal colleges and campaign groups,
following the total ban on online junk food adverts, confirmed
on 11 May in the Queen's Speech. Caroline Cerny, Alliance Lead
at Obesity Health Alliance said, "The commitment to taking
forward restrictions on junk food adverts online is very welcome
news and shows that the Government is serious about putting
our nation's health first by effectively addressing the drivers of
obesity. If implemented fully, with a 9pm watershed on unhealthy
food adverts on TV and restrictions on promotions, these
landmark policies will stem the flood of unhealthy food and drink
adverts, opening up opportunities for more healthier foods to
be advertised."