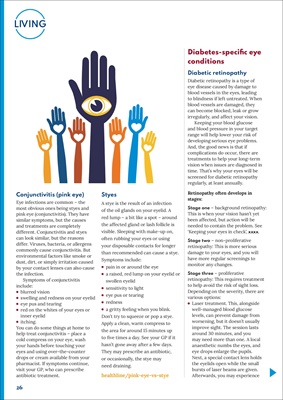 26
LIVING
Conjunctivitis (pink eye)
Eye infections are common - the
most obvious ones being styes and
pink eye (conjunctivitis). They have
similar symptoms, but the causes
and treatments are completely
different. Conjunctivitis and styes
can look similar, but the reasons
differ. Viruses, bacteria, or allergens
commonly cause conjunctivitis. But
environmental factors like smoke or
dust, dirt, or simply irritation caused
by your contact lenses can also cause
the infection.
Symptoms of conjunctivitis
include:
blurred vision
swelling and redness on your eyelid
eye pus and tearing
red on the whites of your eyes or
inner eyelid
itching.
You can do some things at home to
help treat conjunctivitis - place a
cold compress on your eye, wash
your hands before touching your
eyes and using over-the-counter
drops or cream available from your
pharmacist. If symptoms continue,
visit your GP, who can prescribe
antibiotic treatment.
Styes
A stye is the result of an infection
of the oil glands on your eyelid. A
red lump - a bit like a spot - around
the affected gland or lash follicle is
visible. Sleeping with make-up on,
often rubbing your eyes or using
your disposable contacts for longer
than recommended can cause a stye.
Symptoms include:
pain in or around the eye
a raised, red lump on your eyelid or
swollen eyelid
sensitivity to light
eye pus or tearing
redness
a gritty feeling when you blink.
Don't try to squeeze or pop a stye.
Apply a clean, warm compress to
the area for around 15 minutes up
to five times a day. See your GP if it
hasn't gone away after a few days.
They may prescribe an antibiotic,
or occasionally, the stye may
need draining.
healthline/pink-eye-vs-stye
Diabetes-specific eye
conditions
Diabetic retinopathy
Diabetic retinopathy is a type of
eye disease caused by damage to
blood vessels in the eyes, leading
to blindness if left untreated. When
blood vessels are damaged, they
can become blocked, leak or grow
irregularly, and affect your vision.
Keeping your blood glucose
and blood pressure in your target
range will help lower your risk of
developing serious eye problems.
And, the good news is that if
complications do occur, there are
treatments to help your long-term
vision when issues are diagnosed in
time. That's why your eyes will be
screened for diabetic retinopathy
regularly, at least annually.
Retinopathy often develops in
stages:
Stage one - background retinopathy:
This is when your vision hasn't yet
been affected, but action will be
needed to contain the problem. See
'Keeping your eyes in check', xxxx.
Stage two - non-proliferative
retinopathy: This is more serious
damage to your eyes, and you will
have more regular screenings to
monitor any changes.
Stage three - proliferative
retinopathy: This requires treatment
to help avoid the risk of sight loss.
Depending on the severity, there are
various options:
Laser treatment. This, alongside
well-managed blood glucose
levels, can prevent damage from
worsening, but it doesn't usually
improve sight. The session lasts
around 30 minutes, and you
may need more than one. A local
anaesthetic numbs the eyes, and
eye drops enlarge the pupils.
Next, a special contact lens holds
the eyelids open while the small
bursts of laser beams are given.
Afterwards, you may experience