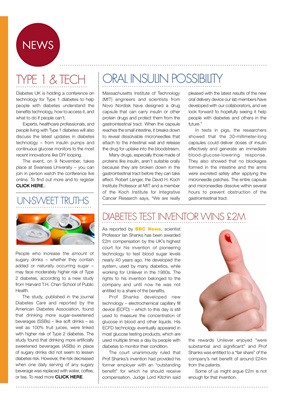 NEWS
TYPE 1 & TECH
Diabetes UK is holding a conference on
technology for Type 1 diabetes to help
people with diabetes understand the
benefits technology, how to access it, and
what to do if people can't.
Experts, healthcare professionals, and
people living with Type 1 diabetes will also
discuss the latest updates in diabetes
technology - from insulin pumps and
continuous glucose monitors to the most
recent innovations like DIY looping.
The event, on 9 November, takes
place at Swansea University - you can
join in person watch the conference live
online. To find out more and to register
CLICK HERE.:
UN-SWEET TRUTHS
People who increase the amount of
sugary drinks - whether they contain
added or naturally occurring sugar -
may face moderately higher risk of Type
2 diabetes, according to a new study
from Harvard T.H. Chan School of Public
Health.
The study, published in the journal
Diabetes Care and reported by the
American Diabetes Association, found
that drinking more sugar-sweetened
beverages (SSBs) - like soft drinks - as
well as 100% fruit juices, were linked
with higher risk of Type 2 diabetes. The
study found that drinking more artificially
sweetened beverages (ASBs) in place
of sugary drinks did not seem to lessen
diabetes risk. However, the risk decreased
when one daily serving of any sugary
beverage was replaced with water, coffee,
or tea. To read more CLICK HERE.
Massachusetts Institute of Technology
(MIT) engineers and scientists from
Novo Nordisk have designed a drug
capsule that can carry insulin or other
protein drugs and protect them from the
gastrointestinal tract. When the capsule
reaches the small intestine, it breaks down
to reveal dissolvable microneedles that
attach to the intestinal wall and release
the drug for uptake into the bloodstream.
Many drugs, especially those made of
proteins like insulin, aren't suitable orally
because they are broken down in the
gastrointestinal tract before they can take
effect. Robert Langer, the David H. Koch
Institute Professor at MIT and a member
of the Koch Institute for Integrative
Cancer Research says, "We are really
pleased with the latest results of the new
oral delivery device our lab members have
developed with our collaborators, and we
look forward to hopefully seeing it help
people with diabetes and others in the
future."
In tests in pigs, the researchers
showed that the 30-millimeter-long
capsules could deliver doses of insulin
effectively and generate an immediate
blood-glucose-lowering response.
They also showed that no blockages
formed in the intestine and the arms
were excreted safely after applying the
microneedle patches. The entire capsule
and microneedles dissolve within several
hours to prevent obstruction of the
gastrointestinal tract.
ORAL INSULIN POSSIBILITY
As reported by BBC News, scientist
Professor Ian Shanks has been awarded
£2m compensation by the UK's highest
court for his invention of pioneering
technology to test blood sugar levels
nearly 40 years ago. He developed the
system, used by many diabetics, while
working for Unilever in the 1980s. The
rights to his invention belonged to the
company and until now he was not
entitled to a share of the benefits.
Prof Shanks developed new
technology - electrochemical capillary fill
device (ECFD) - which to this day is still
used to measure the concentration of
glucose in blood and other liquids. His
ECFD technology eventually appeared in
most glucose testing products, which are
used multiple times a day by people with
diabetes to monitor their condition.
The court unanimously ruled that
Prof Shanks's invention had provided his
former employer with an "outstanding
benefit" for which he should receive
compensation. Judge Lord Kitchin said
DIABETES TEST INVENTOR WINS £2M
the rewards Unilever enjoyed "were
substantial and significant" and Prof
Shanks was entitled to a "fair share" of the
company's net benefit of around £24m
from the patents.
Some of us might argue £2m is not
enough for that invention.