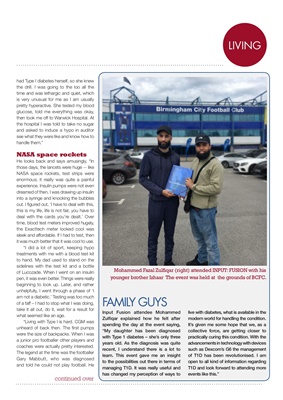 KITLIVING
continued over
Input Fusion attendee Mohammed
Zulfiqar explained how he felt after
spending the day at the event saying,
"My daughter has been diagnosed
with Type 1 diabetes - she's only three
years old. As the diagnosis was quite
recent, I understand there is a lot to
learn. This event gave me an insight
to the possibilities out there in terms of
managing T1D. It was really useful and
has changed my perception of ways to
live with diabetes, what is available in the
modern world for handling the condition.
It's given me some hope that we, as a
collective force, are getting closer to
practically curing this condition. With the
advancements in technology with devices
such as Dexcom's G6 the management
of T1D has been revolutionised. I am
open to all kind of information regarding
T1D and look forward to attending more
events like this."
FAMILY GUYS
Mohammed Fazal Zulfiqar (right) attended INPUT: FUSION with his
younger brother Izhaar The event was held at the grounds of BCFC.
my symptoms. My mother had Type I
diabetes herself, so she knew the drill. I
was going to the loo all the time and was
lethargic and quiet, which is very unusual
for me as I am usually pretty hyperactive.
She tested my blood glucose, told me
everything was okay, then took me off to
Warwick Hospital. At the hospital I was
told to take no sugar and asked to induce
a hypo in auditor see what they were like
and know how to handle them."
NASA space rockets
He looks back and says amusingly, "In
those days, the lancets were huge -- like
NASA space rockets, test strips were
enormous; it really was quite a painful
experience. Insulin pumps were not even
dreamed of then. I was drawing up insulin
into syringe and knocking the bubbles
out. I figured out, 'I have to deal with this,
this is my life, life is not fair, you have to
deal with the cards you're dealt.' Over
time, blood test meters improved hugely,
the Exacttech meter looked cool was
sleek and affordable. If I had to test, then
it was much better that it was cool to use.
"I did a lot of sport, keeping hypo
treatments with me with a blood test kit
to hand. My dad used to stand on the
sidelines with the test kit and a bottle of
Lucozade. When I went on insulin pen,
it was even better. Things were really
beginning to look up. Later, and rather
unhelpfully, I went through a phase of 'I
am not a diabetic.' Testing was too much
of a faff - I had to stop what I was doing,
take it all out, do it, wait for a result for
what seemed like an age.
"Living with Type I is hard. CGM was
unheard of back then. The first pumps
were the size of backpacks. When I was
a junior pro footballer other players and
coaches were actually pretty interested.
The legend at the time was the footballer
Gary Mabbutt, who was diagnosed
and told he could not play football. He