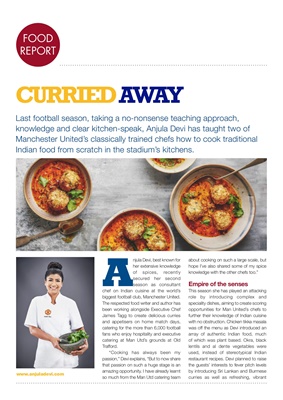 LIVINGLIVING
CURRIED AWAY
Using a no-nonsense teaching approach, knowledge and clear
kitchen-speak, Anjula Devi has successfully taught two of Manchester
United's classically trained chefs how to cook traditional Indian food in
the stadium's kitchens, from scratch last season.
FOOD
REPORT
C
hef Chef Anjula Devi,
best known for her
extensive knowledge of
spices, recently secured
her second season as
consultant chef on Indian cuisine at the
world's biggest football club, Manchester
United. The respected food writer and
author has been working alongside
Executive Chef James Tagg to create
delicious curries and appetisers on home
match days, catering for the more than
6,000 football fans who enjoy hospitality
and executive catering at Man Utd's
grounds at Old Trafford.
"Cooking has always been my
passion," Devi explains, "But to now share
that passion on such a huge stage is an
amazing opportunity. I have already learnt
so much from the Man Utd catering team
about cooking on such a large scale, but
hope I've also shared some of my spice
knowledge with the other chefs too."
Empire of the senses
This season she has played an
attacking role by introducing complex
and speciality dishes, aiming to create
scoring opportunities for Man United's
chefs to further their knowledge of Indian
cuisine with no obstruction. Chicken tikka
masala off the menu as Devi introduced
an array of authentic Indian food, much
of which was plant based. Okra, black
lentils and vibrant al dente vegetables
were used, instead of stereotypical Indian
restaurant recipes. Devi planned to raise
the guests' interests to fever pitch levels
by introducing Sri Lankan and Burmese
curries as well as refreshing, vibrant