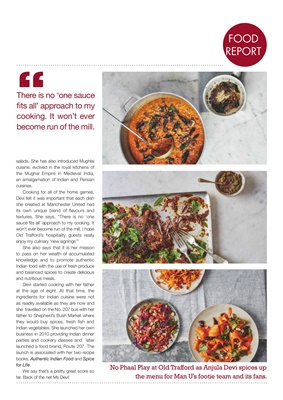 KITLIVING
FOOD
REPORT
salads. She has also introduced Mughlai
cuisine, evolved in the royal kitchens of
the Mughal Empire in Medieval India,
an amalgamation of Indian and Persian
cuisines.
Cooking for all of the home games,
Devi felt it was important that each dish
she created at Manchester United had
its own unique blend of flavours and
textures. She says, "There is no 'one
sauce fits all' approach to my cooking. It
won't ever become run of the mill. I hope
to come away from this season with Old
Trafford's hospitality guests really enjoying
all my culinary 'new signings'"
She also says that it is her mission
to pass on her wealth of accumulated
knowledge and to promote authentic
Indian food with the use of fresh produce
and balanced spices to create delicious
and nutritious meals.
Devi started cooking with her father
at the age of eight. At that time, the
ingredients for Indian cuisine were not
as readily available as they are now and
she travelled on the No. 207 bus with
her father to Shepherd's Bush Market
where they would buy spices, fresh fish
and Indian vegetables. She launched her
own business in 2010 providing Indian
dinner parties and cookery classes and
later launched a food brand, Route 207.
This accompanies her two recipe books,
Authentic Indian Food and Spice for
Life.
We say that's a great score so far.
No Phaal Play at Old Trafford as Anjula Devi spices up
the menu for Man U's footie team and its fans.
"There is no 'one sauce
fits all' approach to my
cooking. It won't ever
become run of the mill.